Personality: Edward H. Baine
Spotlight on recipient of the Anthony R. James Legacy Award
2/23/2017, 10:51 p.m.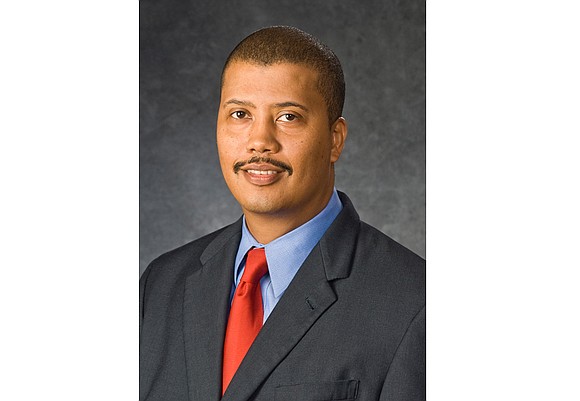 When 2.6 million Dominion customers in Virginia and North Carolina turn on their lights each day, they have Edward H. Baine to thank.
His leadership role as senior vice president of distribution for the utility company is only part of the reason Mr. Baine is the 2017 recipient of the Anthony R. James Legacy Award for Outstanding Community Service.
"We were brought up with the understanding that when you've been blessed with opportunities, as we have, you should be helping others," the Chesterfield County resident says.
Mr. Baine was one of 31 award recipients recognized at the Career Communication Group's 2017 Black Engineer of the Year Award STEM & Community Service Conference. The three-day event was held earlier this month in Washington. Mr. Baine's award was presented at the HBCU Engineering Deans Power Breakfast.
The 43-year-old grew up in Lunenburg County watching and then working with his grandfather and father, helping families in his community who were in need. He divided his time working the tobacco fields with his family and with one of his grandfathers, who was a certified electrician and plumber. He said the community work they did ran the gamut, from chopping wood for elderly neighbors to helping build a new barn.
Taking the experience to heart, Mr. Baine says he has always sought opportunities to give back to the community. But in 2009, Dr. Marcus Newsome, superintendent of Chesterfield County Public Schools at the time, convened a group of African-American professionals to request help in directing African-American youths toward achievement. The meeting inspired Mr. Baine to focus his community service efforts on youths and education.
"I've seen with my own eyes the impact education can have on your own life and on the lives of your whole family," he says.
He currently serves on the boards of directors of nine organizations and has coached youth football for 11 years.
When his high school math teacher suggested engineering as a career, he says he sought information and guidance from others and the career path appealed to him.
"By the time I graduated from high school, I had decided I wanted to be an electrical engineer," he says.
He says he is humbled when he receives recognition for his work in the community, although he does not perceive his efforts as above and beyond.
"I'm being recognized for things that we all should be doing anyway," he says. Meet engineer, achiever, community service award winner and this week's Personality, Edward H. Baine:
Occupation: Senior vice president – distribution for Dominion Virginia Power, now Dominion Energy.
What I do: Responsible for all facets of Dominion's regulated electric distribution business that provides electricity to about 2.6 million customers in Virginia and Northeastern North Carolina.
Latest accomplishment: Recipient, Anthony R. James Legacy Award from the Career Communications Group, as part of the Black Engineer of the Year Award for STEM & Community Service ceremony.
Community involvement: A member of the boards of directors of the Dominion Credit Union, the Greater Richmond Chamber of Commerce, Venture Richmond and the Capital Region Collaborative Organizing Council. I also serve on the board of the Chesterfield Education Foundation and am a member of the advisory councils of the Robins School of Business at the University of Richmond and the Reginald F. Lewis College of Business at Virginia State University. In addition, I serve on the boards of directors of SEE, the Virginia Tech Athletic Fund, MEGA Mentors and the Virginia Chapter of the American Association of Blacks in Energy. I also have coached youth football for the past 11 years.