'When is enough enough?'
Slaying of Va. State Police Special Agent Michael T. Walter grips Mosby Court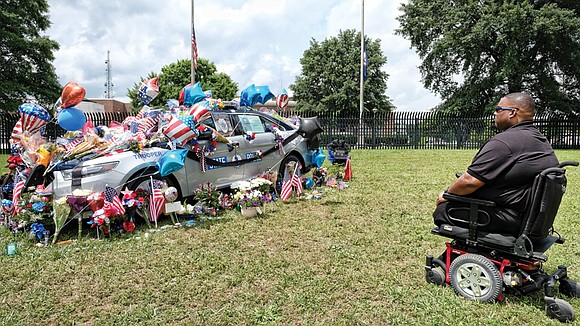 At an April community meeting, residents of Mosby Court pleaded with Richmond Police Chief Alfred Durham for a crackdown to end the violence in the section of the public housing community located off Accommodation Street in the East End.
He was urged to set up roadblocks to force people to show IDs to enter Mosby Court, to authorize officers to conduct pat downs and to take other steps to improve the safety of residents who have seen seven people killed and at least 19 others wounded this year in this small section of the city.
But the police chief said "that would be going too far," said Arthur Burton, a Mosby Court advocate who created and operates Kinfolk Community Empowerment Center that works with residents for the betterment of the community.
Mr. Burton said the failure of city officials to take strong action to weed out of the community those with a propensity for violence laid the groundwork for the latest fatal shooting in Mosby Court, this time of a member of the Virginia State Police.
State Police Special Agent Michael T. Walter, 45, was shot in the head Friday evening allegedly by a convicted felon who lived in Mosby Court. Agent Walter died early Saturday at a Richmond hospital. A former Marine and father of three, he mentored youths in his time off duty and had mentored a youth wrestling club in Powhatan County.
An 18-year State Police veteran, Agent Walter was with a Richmond Police officer conducting an enforcement initiative in Mosby Court when he was shot.
"When is enough enough?" Mr. Burton said. "We have made the name of this community synonymous with violence. Just say the name Mosby, and there is an expectation that this kind of behavior is OK.
"People deserve to feel safe in their community. When two teenagers are killed and nothing happens," he said, referencing a shocking double homicide in Mosby Court in March, "that sends a message. The trooper's death is important, but no more important that the others who have been killed."
Neither Mayor Levar M. Stoney nor Chief Durham has responded to a Free Press query on whether additional patrols or enforcement steps are planned for Mosby Court.
Chief Durham, in public statements, indicated that Mosby would be one focus of the summer Fugitives and Firearms Initiative in which the city police team with other law enforcement groups to arrest people who have outstanding warrants or unlawfully possess handguns.
However, the chief put the onus on terrified residents to "help bring change" in Mosby.
"This has been one of the most challenging communities in the city this year," he told reporters after the special agent's slaying. "Be the change you want to see," he said, in once again urging people to report crimes. "Nobody should be able to come in here and wreak havoc as such to have somebody lose their life."
So far, such words have had little impact in halting the shootings, which have been epidemic this year, but commonplace in Mosby in recent years.
The special agent's alleged killer, Travis A. Ball, 27, who was captured Saturday morning in Northumberland County, reportedly lived with his girlfriend in Mosby Court. That is raising questions as well.
Mr. Ball's criminal record includes misdemeanor convictions for assault and battery and cruelty to animals, court records show, as well as a 2014 felony conviction for unauthorized use of a vehicle.
Richmond Redevelopment and Housing Authority, which manages Mosby Court and the city's other public housing communities, includes stern words in its lease with residents barring convicted felons from living there and routinely has evicted residents whose live-in relatives have been arrested and convicted of a felony or drug crime.
What is known is that RRHA had banned Mr. Ball from Mosby Court and that he was not on the lease. The authority reported this week that it is now investigating how Mr. Ball continued to live in the 1900 block of Redd Street despite being banned from the property.
The shooting happened when Special Agent Walter and a Richmond Police officer approached a car that was parked in the wrong direction. Mr. Ball was in the passenger seat; the driver has not been identified.
Unknown to the officers, Mr. Ball had outstanding warrants, including one alleging a January assault of a 14-year-old girl and the other alleging failure to pay child support, according to court records.
Dressed in civilian clothes, but wearing a bulletproof vest with his badge prominently displayed, Special Agent Walter approached the car's passenger side while the Richmond Police officer spoke to the driver.
According to reports, a conversation had just started when Mr. Ball allegedly shot the agent in the head, jumped out of the car and ran.
Those who knew Mr. Ball expressed surprise that he could be involved.
Known in the community as "Wiz," he often was seen outside playing with children and sometimes would buy snacks for youngsters at the store.
As one resident put it: "He didn't seem like a ruthless person. We see a lot of ruthless people around here."
Mr. Ball was arraigned Tuesday and was ordered held without bond on a series of charges related to the special agent's slaying.


The Richmond officer was not injured, police said. The driver of the vehicle remained at the scene and was detained. A handgun was found near the vehicle, authorities said.