Stop the violence
Community leaders, residents march in Mosby Court for peace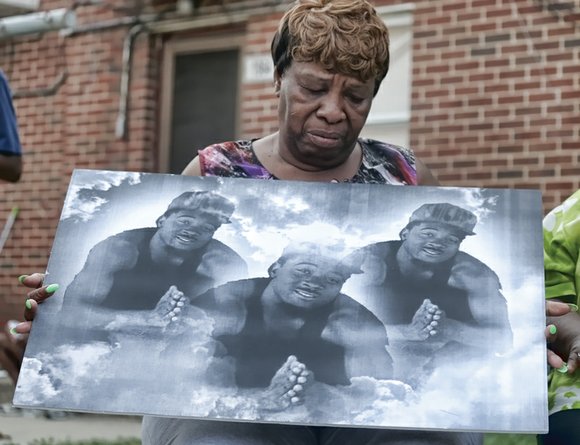 For most of her adult life, Joyce Kenney has been an advocate for people living in the Mosby Court public housing community and other poor neighborhoods in the city.
In that time, she has lobbied for more resources for people in disadvantaged communities. She also has attended countless vigils to comfort those mourning the deaths of their loved ones due to violence in the streets.
On Tuesday night, it was Ms. Kenney's turn to be consoled by community members.
Her grandson, Ra'Keem Adkins, 22, was one of five shooting victims in Richmond May 7. He was shot multiple times and died on the sidewalk in the 1900 block of Redd Street shortly after 10 p.m. in Mosby Court in the city's East End.
Earlier in the day, Sylvester Nichols, 24, was fatally shot in the parking lot of the Family Dollar Store in the 6500 block of Midlothian Turnpike on South Side. A third man also was shot that night about three miles away and taken to the hospital with life-threatening injuries.
Angered by the ongoing black-on-black violence in the city, community activist J.J. Minor said he began planning an anti-violence rally last Saturday with the Mosby Court Tenant Council and fellow activist Charles Willis, who grew up in Mosby Court.
"I'm tired and frustrated by the black-on-black crime," Mr. Minor told the Free Press prior to the rally as he and other volunteers prepared hamburgers and hot dogs to serve along with potato chips, soft drinks and water to rally attendees.
He pointed to a decrepit basketball court a few yards from where Mr. Adkins was killed. The baskets had bent rims and no nets.
"Look at that," he said, shaking his head. "The city needs to step up to the plate and put more resources in impoverished communities."
He said he plans to contact community members, city officials, educators, business leaders and faith leaders to convene a roundtable discussion in a few weeks to plan strategies to gain more resources for poor neighborhoods and to end the violence.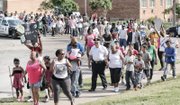 More than 200 people — including Richmond Police Chief Alfred Durham, several City Council and School Board members and leaders of the faith community — attended the rally held Tuesday evening, only a few yards from where Mr. Adkins was gunned down.
Many of them, including Chief Durham, first marched about a half mile from Martin Luther King Jr. Middle School to the rally site. Some held signs that read "Put guns down," "No more violence," and "Stop the killings." Youngsters and adults chanted, "No more violence! Increase the peace!"
Ms. Kenney sat next to a podium along with other family members as speaker after speaker decried the violence. They called on the community to turn in the criminals to police and for the police to get the guns out of the criminals' hands.
"We've got to stop the violence and try to better our community. All of us need to live as one and do more to help each other," Ms. Kenney told a Free Press reporter.