'Cause other people to want to learn,' Hampton U grads told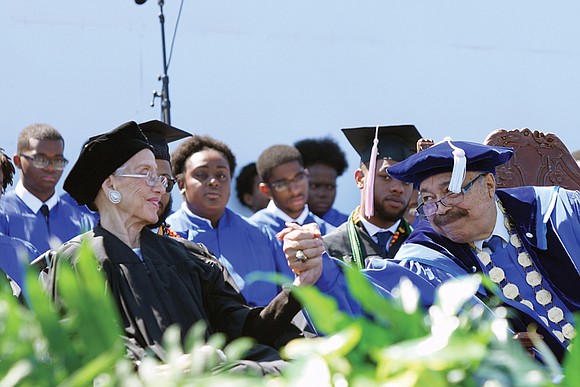 HAMPTON
Love learning, help others and do your best.
That was the advice that NASA pioneer Katherine G. Johnson offered Sunday to the 917 people awarded undergraduate and graduate degrees at Hampton University's 147th commencement.
Mrs. Johnson is the retired NASA Langley mathematician who was a key to the nation's early success in manned space flights and gained national prominence through the movie "Hidden Figures."
The 98-year-old West Virginia native who now lives in a retirement community in Newport News was on stage at the commencement, but delivered her remarks in a video recording.
"You will do better if you cause other people to want to learn. And you will do better if you at all times want to learn, want to teach, want to help," she told the audience at Armstrong Stadium on campus.
"You've got it made graduating from Hampton," she continued. "People already know that you know a lot of information, and you will use it and use it well, because they know that you picked good information to pass along."
Hampton University President William R. Harvey noted Mrs. Johnson's calculations to send a man into orbit and her Presidential Medal of Freedom awarded in November 2015 by President Obama. He added to her list of awards by bestowing her with an honorary doctorate of science from the university, which was founded in 1868 and held its first graduation in 1871.
Mrs. Johnson's husband, retired Lt. Col. James A. Johnson, her three daughters and three of her six grandchildren all are Hampton University graduates.
Dr. Harvey also awarded two outstanding alumnus-at-large awards to HU graduates who have impacted the world. The recipients were John B. Spencer, an HU professor emeritus who was chair of the university's Department of Architecture for 25 years, and Rear Adm. Sylvia Trent-Adams, acting U.S. surgeon general and a former officer in the U.S. Army Nurse Corps.
"There is a job for you, graduating Class of 2017, in every single occupation known to man," Dr. Harvey told the graduates. "Look at the dais. Look at Mrs. Johnson. Look at the surgeon general. It is your responsibility to make something happen. Nobody's going to give you anything. You make it happen."
In her talk, valedictorian J'niyah Knox-Wilson of Hampton directed her classmates to change the world.
"Across the globe, there are humans whose lives are afflicted by some oppressive types of 'isms,' whether it is sexism, racism, classism, colorism or even ageism," Ms. Knox-Wilson said. "Although those fights are a part of our journey ahead and will be formidable challenges to our progress, I know we can win those fights.
"Do you know how I know? I know because we are resilient, we are purposeful, we are Hamptonians."