Retired Army major earns salute on the golf links
4/29/2018, 2:38 p.m.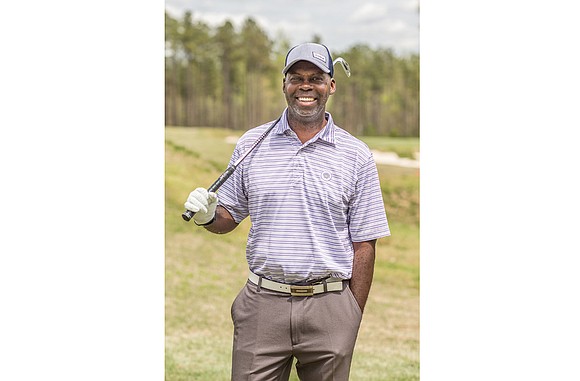 Retired Army officer Duncan Hardcastle has become the golfing star with the stripes.
The 51-year-old Midlothian resident also draws attention for being a rare African-American at some of the bold-letter golfing events in the area and around the state.
"When I began playing at military installations, there were lots of black golfers — plenty of them," recalled Hardcastle, who retired with the rank of major.
"But as you move away from that, into the better clubs, the bigger tournaments, you see less and less. Sometimes it's down to two, even one."
Originally from Mebane, N.C., near Burlington, Hardcastle wasn't introduced to golf until he was nearly 30 and stationed at Fort Bragg in Fayetteville, N.C.
"I was apart from my family at the time and looking for something to do after work," he said. "I started playing golf with my buddies. And I was bit by the bug."
It's a "bug" for which he seeks no remedy.
Last August, Hardcastle made history of sorts by becoming the first African-American to advance to the finals of the Virginia State Golf Association Senior Amateur Championships. The tournament dates back to 1948.
The 6-foot, 180-pound Hardcastle, with plenty of power off the tee and precision with all clubs, eventually lost in the title match to Rich Buckner at Keswick Golf Club in Charlottesville. 
Also last August, Hardcastle claimed both the Open and Senior crowns at his home course, Magnolia Green Golf Club, in the western Chesterfield community of Moseley.
In pulling off the double titles at Magnolia Green, Hardcastle became the first African-American to win either crown at the club that opened in 2010.
"Duncan has about the smoothest swing around," said Magnolia assistant pro Josh Feister. "And I doubt there's a single club member here who doesn't know him. He's out on the (driving) range all the time."
Hardcastle, who gives credit to his wife, Stephanie, for her unconditional support, said "networking" was a factor when he took the plunge into golfing.
"That's what officers do — networking," he explained. "They play tennis, golf and go to the officers' club."
Hardcastle's intro into golf closely coincided with Tigers Woods' unprecedented stardom. Woods joined the PGA tour in 1996 and won his first Masters Tournament in 1997. That was about same time Hardcastle was taking his first swings at the military base course in Fayetteville.
"I noticed that on Sundays, I started watching golf on TV instead of football and baseball," Hardcastle said.
He grew up playing baseball, basketball and football in rural North Carolina and later at Eastern Alamance High School in Mebane.
"Golf wasn't even on my radar," he recalled.
An inseparable friend growing up was Eric English, who starred in basketball at nearby Orange High School in Hillsborough, N.C.
In fact, Hardcastle lived with the Englishes for a spell following fire damage to his family's mobile home. The two men remain close today, often partnering as high school basketball referees.
Following high school, English signed to play basketball at the University of Richmond and became a Spiders standout in the late 1980s.