Public meeting Sept.13 on Boulevard renaming
8/23/2018, 6 a.m.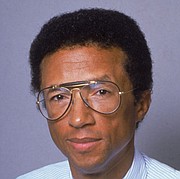 A two-hour community meeting will be held next month to allow city residents to give their views on a proposal to rename the Boulevard as Arthur Ashe Boulevard to honor the Richmond-born tennis great and humanitarian who died in 1993.
City Councilwoman Kim B. Gray, 2nd District, announced the meeting will be 5:30 to 7:30 p.m. Thursday, Sept. 13, in the theater of the Virginia Museum of Fine Arts, 200 N. Boulevard.
Ms. Gray said she plans to introduce legislation to change the street's name at the City Council meeting on Monday, Sept. 10.