Dr. Wyatt Tee Walker, civil rights icon, chief of staff to Dr. King, dies in Chester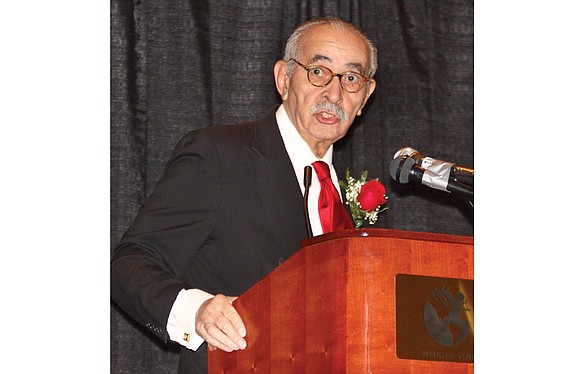 Dr. Walker came to Richmond after World War II to start his studies at VUU. A standout student who went on to earn his undergraduate and ministry degrees at the university, he began his civil rights work while a student. Refusing to accept second class status, he often was put off Richmond street cars for refusing to move to the back.
After being called to the Gillfield Baptist Church pulpit in 1953, he preached, protested and courted arrest. The first of his 17 arrests came when he led a group of African-Americans through the whites-only door of the Petersburg Public Library, one of his many acts of civil disobedience.
He also served as president of the Petersburg Branch NAACP, state director of the Congress of Racial Equality and founder of the Petersburg Improvement Association, which was modeled on the Montgomery Improvement Association that guided the bus boycott in 1956 in that Alabama city.
In 1960, Dr. Walker went to Atlanta to join Dr. King's Southern Christian Leadership Conference as its executive director after previously serving on the board. He had met Dr. King when both were presidents of their seminary classes, he at VUU and Dr. King at Crozer Theological Seminary in Pennsylvania, where Dr. Walker later would earn his doctorate.
Through 1964, Dr. Walker served as the SCLC executive director and Dr. King's right-hand man. Dr. Walker raised money to support the SCLC and also devised boycotts and demonstrations for Dr. King, most notably in the spring of 1963 in Birmingham, Ala., under the code name "Project C."
The C stood for "confrontation," Dr. Walker recalled in an interview.
"The federal government was against us, the local communities were against us, the judges were against us, but we managed to do it, and I guess we found the strength to do it because it was a moral fight," he told an interviewer in 2006.
"I was fully committed to nonviolence, and I believe with all my heart that for the Civil Rights Movement to prove itself, its nonviolent actions had to work in Birmingham," he said.
"If it wasn't for Birmingham, there wouldn't have been a Selma march, there wouldn't have been a 1965 civil rights bill. Birmingham was the birthplace and affirmation of the nonviolent movement in America."
Dr. Walker played a key role in circulating Dr. King's famous "Letter From Birmingham Jail," penned in April 1963, that argued for civil disobedience as a legitimate response to racial segregation.
Dr. Walker also helped organize the August 1963 March on Washington for Jobs and Freedom, which was capped by Dr. King's "I Have a Dream" speech.
Historians and those who worked with Dr. King argue that Dr. Walker's management skills enabled the SCLC to grow from a largely volunteer organization into a crucial, professional element of the Civil Rights Movement, with a $1 million annual budget and 100 full-time workers.
Dr. Walker's "brilliance as a strategist was his greatest contribution to the Civil Rights Movement," according to the Rev. Jesse Jackson, who also worked with Dr. King and went on to found and lead the national Rainbow PUSH Coalition.