Pulse of the city
Ridership, confusion up as GRTC's new bus rapid transit line starts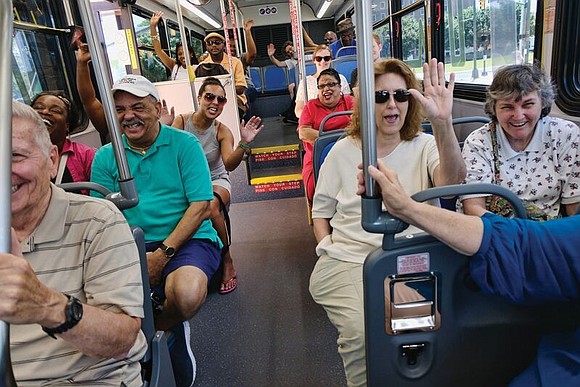 Mayor Levar M. Stoney calls it "progress" and "one of the most exciting and progressive public transportation projects in Richmond history."
But patient care specialist Yveatrice Burno calls it "a huge inconvenience that has made it more difficult to get to work," while retiree Kathy Hanes calls it "a big problem that forces me to walk more blocks on my bad knee to catch a bus."
No matter how it is described, the new $65 million Pulse bus rapid transit line, and the huge overhaul in regular bus routes, are now a fact of life for the 20,000 city residents whose connection to jobs, doctors, grocery stores and the rest of Richmond revolve around public transportation.
The 7.6-mile, east-west Pulse service and bus route changes in Richmond and Henrico County launched Sunday, and GRTC has reported huge demand the first two days. Rides are free on every line through Saturday, June 30.
People like John and Mary Davis, who always take a car, spent part of Sunday trying out the system, a hopeful sign that Pulse could attract new riders.
"I told my husband we had heard so much about Pulse, we just had to see it in action," Mrs. Davis said with a smile. "Not bad. I might leave my car and take this when I have to go Downtown."
On Monday, Naomi Graves spent several hours riding the Pulse and connecting buses. "My boss told me to take the day off to make sure I knew how get to work," the East End resident said.
The company reported more than 6,200 people packed the Pulse buses on opening day, with nearly 8,700 people using Pulse on Monday — far above conservative, pre-service projections of 3,500 riders a day.
GRTC expected to use six Pulse buses on opening day but added two more because so many people turned out to test the system. Riders swamped the stations, particularly those in Downtown, said GRTC spokeswoman Carrie Rose Pace.
It's too early to tell whether such demand will continue, but there is some indication Pulse, which replaced the old Broad Street Route 6, will stay busy. The main reason is that the shuffle in bus routes means a majority of runs are no longer traveling along long stretches of Broad Street during most weekday hours and on Saturdays.

Some buses that once traveled Downtown, such as routes to the University of Richmond and to western Henrico County, now start and stop at Pulse's station at the Shops at Willow Lawn.
The Route 50 bus, one of the few that runs along Broad Street, starts at the Science Museum of Virginia, requiring riders from the east to first catch the Pulse to transfer to that bus.
For buses running north and south and on a number of other routes, the familiar stop at the GRTC transfer area on 9th Street has been eliminated, except after dark and on Sundays and holidays.

Thousands of regular riders quickly learned that their knowledge of bus routes and stops was obsolete.