'Bunching' problem plaguing Pulse service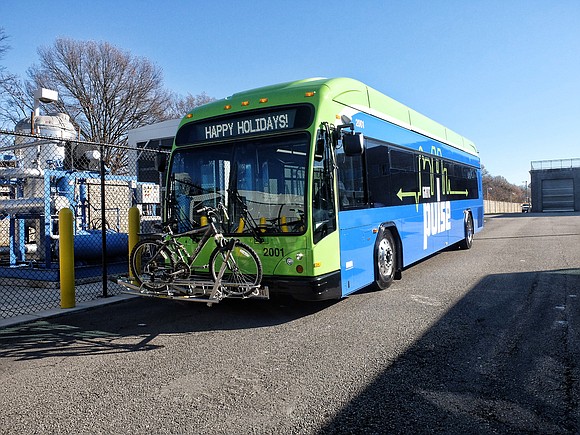 The Pulse's reputation for fast, reliable service has begun to take a hit, with the potential to undermine the public transit company's ability to get more people to skip their cars and take the bus.
Instead of the promised 10- to 15-minute service at any stop, riders are reporting waits of 30 to 40 minutes and, sometimes, even more than an hour for the arrival of the next bus on the rapid transit line. The delays are most notably at rush hour.
GRTC acknowledges that it is facing a challenge in trying to maintain the high-quality service, despite adding extra buses to try to hew to schedules.
The main problem is that neither Pulse nor other buses operate along dedicated lanes like a railroad track, GRTC spokeswoman Carrie T. Rose noted.
"So long as transit does not operate on lanes completely separated from any interaction with other modes, such as at intersections, bus delays will occur," Ms. Pace stated.
"Items outside of GRTC's control that impact all of our service include police traffic control, traffic congestion, crashes and construction in the right-of-way," she added.
Wyatt Gordon, a Richmond-based correspondent for Greater Greater Washington's blog, first identified the problem of "bunching" that is creating slower service on Pulse.
In a Dec. 23 article posted on Facebook, he described the phenomenon as having individual buses that were supposed to be spaced out arrive at the same stop together. The result is multiple buses at one point and delays in service at other points along the route.
The problem, as he and others have noted, creates a perception of unreliable service. Adding to the problem is that riders crowd the first bus to arrive, while following buses have fewer riders. The subsequent buses end up waiting because the crowded bus takes longer at stops to unload.
"I share this very deep and very real frus- tration" about bunching and service delays, Julie Timm, chief executive officer of GRTC, noted in response to a Free Press query.
"I, too, have waited at night and in the rain for buses that have been late or not showed up due to traffic and detours," she continued.
"While some solutions to traffic congestion are outside of our control, I do not accept that we are helpless," she stated. "I am committed to working every day to continue to improve and expand our service.
"I hope that more people will work with GRTC to make transit a top priority for the region, including providing more dedicated bus lanes and dedicated funding for high-frequency service."
Ms. Pace cited three issues that are contributing to bunching.
First, she said, Pulse and other vehicles often are held up on 14th Street during the morning and evening rush hours by Capitol Police trying to help state employees drive in and out of parking decks to ensure pedestrian safety.
Then Pulse can be held up if there are accidents or heavy traffic on the Main Street section of the route. On rare occasions, the Pulse bus misses the Main Street Station stop because of the delays, she said.
Construction work on Broad Street also impacts Pulse timing, she said. For example, recent work at Allison and Broad streets required Pulse buses to detour to Leigh Street to get around the construc- tion, she stated.
Then work on Broad Street between 1st and 2nd streets led to a lane closure that forced Pulse to detour to Cary Street, slowing service, she said.
Ms. Pace stated that bunching often occurs on other routes because of the same issues.
"GRTC also is working with partners to identify and recommend solutions," Ms. Pace stated. "GRTC also is working on better channels to give riders real time communication on service impacts."
Ross Catrow, executive director of RVA Rapid Transit, which advocates for public transit and greater financing, has offered some ideas, including giving buses priority on bus-only lanes and holding up other traffic, using enforcement to keep other vehicles out of those lanes and buying bigger buses.
GRTC has begun experimenting with the use of larger 60-foot buses with more seating than the standard 40-foot buses.
Still, as Ms. Timm acknowledges, the top solution of dedicated bus lanes has a ways to go to become a reality on the 7.3-mile Pulse route.