Personality: Frances K. Scott
Spotlight on chair of The Charmettes' annual prayer brunch
3/30/2018, 11:34 a.m.
Cancer does not discriminate. Age, race, ethnicity and economic background don't matter, Frances K. Scott has learned.
Her mother was diagnosed with multiple myeloma, a cancer of plasma cells that causes cancer cells to accumulate in the bone marrow. Ms. Scott says it was a shock to her family because "we thought she had a cold when we took her to the doctor."
Her mother lived two years past diagnosis, dying in 1993. Since then, Ms. Scott has been dedicated to educating herself about cancer so that she can inform others. She joined the Richmond Metropolitan Chapter of The Charmettes, Inc. a women's organization committed to improving the quality of life within the Richmond community through advocacy, education, service and support for cancer research.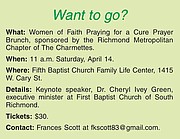 Ms. Scott is chair of the chapter's annual Women of Faith Praying for a Cure Prayer Brunch slated for Saturday, April 14, at the Fifth Baptist Church Family Life Center. Proceeds from the fundraising event will be used by the chapter to buy wigs for cancer patients, provide mammograms, host community forums, support cancer research efforts and provide support and activities for children and families fighting cancer.
"Cancer is a disease that we believe, through prayer, financial support and research, will be eradicated in our lifetime," says Ms. Scott, a recent retiree who also serves as secretary for The Charmettes chapter. "Nationally, The Charmettes have contributed over $600,000 to the Howard University Cancer Center," she says.
The Charmettes are poised to welcome their 20th chapter this summer at their national convention in Tampa, Fla. The Richmond Metropolitan Chapter, founded in March 1991, is the only Virginia chapter.
Currently, the local chapter has 22 members who work hard to make an impact in the Richmond community. They support and participate in various program sponsored by the American Cancer Society, including the Sisters Network Annual Breast Cancer Awareness Walk and Community Outreach and the ASK Pediatric Hematology/Oncology Clinic at VCU Medical Center, which provides health care to children with cancer. The Richmond Metropolitan Chapter also organizes several community health forums, some of which target men.
"Sometimes men are the hardest ones to reach with news and information," Ms. Scott says. "We encourage them to go to their regularly scheduled doctors' exams. If there is anything that is not working correctly and you feel something is not right, go to the doctor. Don't be afraid."
To ensure the involvement of the next generation, the Richmond Metropolitan Chapter of The Charmettes established the Junior Charmettes, composed of middle school girls who help distribute pamphlets and other information about the early detection of cancer and preventive measures at shopping centers and various events.
To further their understanding of the mission and goals of the organization, Ms. Scott says, "We take the Junior Charmettes to Howard University to show them the infusion center that was named after one of our founders, Gwendolyn B. Rodgers."
Meet health advocate and this week's Personality, Frances K. Scott:
No. 1 volunteer position today: Chair, Women of Faith Praying For A Cure Prayer Brunch sponsored by the Richmond Metropolitan Chapter of The Charmettes. Also, I serve as secretary for the chapter.
Occupation: Retired from SunTrust Mortgage in December 2017.
What I do: At this time, I am caring for my youngest great-granddaughter and continuing my work with Cub Scout Pack 487 at Fifth Baptist Church for more than 40 years.
Date and place of birth: Richmond in 1950.
Current residence: Richmond.
Education: Graduate of Maggie L. Walker High School; associate degree in computer operation, J. Sargeant Reynolds Community College.
Family: I am the proud mother of three children, Crescendo, Gayle Jr., and Kara. I also have eight grandchildren and six great-grandchildren.
When and why I became involved with Richmond Metropolitan Chapter of The Charmettes: I became involved with The Charmettes in 2004 because cancer had invaded my family. So I decided to join to become educated about cancer and able to inform others.
Why I am excited about this organization: We have the ability to reach into our communities by informing people about taking care of themselves through good nutrition, exercise, yearly checkups and education.
Brief profile of membership: Must be a high school graduate, at least 21 years old, of good moral character and with community involvement.
How I'll feel when prayer brunch is over: I will feel great with the accomplishments that my committee and chapter made with bringing hope to someone in attendance who was touched with a prayer for healing.
How I start the day: Thanking the Lord for another day and preparing a cup of coffee.
A perfect day for me is: Every day is a perfect day.
Something I love to do that most people would never imagine: My kids say I get on their nerves.
A quote that I am inspired by: "I can do all things through Christ that strengthens me."
How I unwind: Watching HGTV and Hallmark movies.
Hobbies: Camping and bowling.
Three words that best describe me: Loving, caring and demanding.
The top of my "to-do" list is: Live each day as it comes.
The people who influenced me the most: My parents.
What I'm reading now: "One Shadow on the Wall" by Leah Henderson.
My next goal: To have an informative cancer forum for men.