Football season ends for VUU without playoff invitation
Fred Jeter | 11/15/2018, 6 a.m.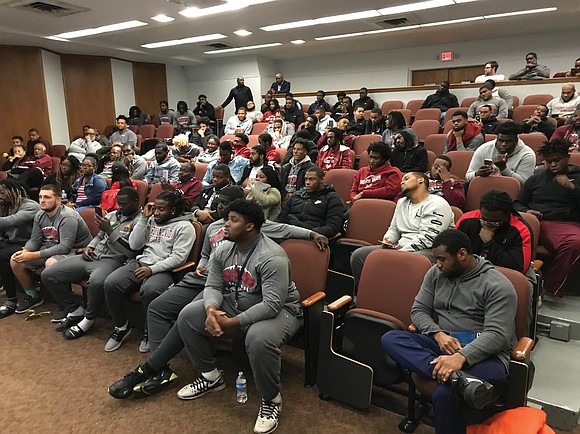 Just when the Virginia Union University Panthers were ready to dance, it was like the music stopped and the band went home.
The Panthers were a dominant football team for 10 games. But the Panthers won't get a shot at an 11th game they so coveted.  
Despite an 8-2 record, an average of 45 points per game and a fast and furious finish, VUU was left out of the draw for the 28-team NCAA Division II playoffs.
The deflating news came last Sunday night as the team, riding a crest of momentum, gathered for a TV "Watch Party" in Wall Auditorium at Ellison Hall. Few were in the mood to enjoy the catered refreshments when VUU's name wasn't called as one of the seven teams tagged for the NCAA Super Region II. Playoffs start Nov. 17.
There was no more hip-hop left in the Panthers' step. You could feel the life drain out of the room.
It became apparent that VUU's season was over when the name of 7-3 Wingate University in North Carolina, whose team has a 7-3 record, popped up on the bracket as the No. 7 seed. That's the slot VUU realistically hoped to fill.
"We left some things to chance this year," VUU Coach Alvin Parker said in addressing his disappointed team. "Next season, we won't leave anything to chance. We'll know we're in."
Among the first to bolt the room in frustration was Tabyus Taylor, the All-CIAA sophomore running back. Taylor certainly did his part to earn an 11th game.
A 250-pound powerhouse from Hopewell, Taylor finished the season with 1,546 yards rushing and 21 touchdowns. Both the yardage and touchdowns rank second of all time among the Panthers.
Andre Braxton still holds the single season marks of 1,660 yards and 28 touchdowns in 2000.
Taylor is joined on the All-CIAA first team by VUU offensive lineman Shamdu Nalls, defensive back Sterling Hammond and place kicker Jefferson Souza.
Flexing its muscle to the end, VUU finished its season with a 60-6 rout of Johnson C. Smith University last Saturday in Charlotte.
The Panthers won their last three games — against Elizabeth City State, Virginia State and Johnson C. Smith — by a whopping combined score of 159-25. Few teams nationwide were any hotter. This season was arguably the best offensive season in VUU annals. Here are a few statistics reflecting the strength.
Points: 452 to 189 for the opposition.
First downs: 221 to 190
Rushing yards: 2,533 to 1,339
Passing yards: 1,973 to 1,797.
Total offense: 4,506 to 3,136.
So why the NCAA snub?
Perhaps it was because of an overall weakness in the schedule. The Panthers' eight victories came over teams with a combined 23-53 record. It certainly wasn't planned that way, however.
Few could predict VSU would go 4-5 or that Hurricane Florence would wreak havoc with the North Carolina schools' seasons.
VUU's losses this season were to 7-4 Carson-Newman University of Tennessee and 9-2 Bowie State University, the eventual CIAA champ. 
Coach Parker has a stockade of firepower returning for 2019, but must replace quarterback Darius Taylor, who enjoyed two banner seasons on Lombardy Street.
Athletic Director Joe Taylor applauded his young men for "changing the culture" of VUU football "on and off the field." He urged the Panthers to use this season as "fuel heading forward."
Still, the cold news cut to the quick. A warmed up squad of Panthers had fully expected to go dancing. Instead they learned they'd have to sit this one out.