VUU's hopes for CIAA title crushed by Bowie State
Fred Jeter | 10/25/2018, 6 a.m.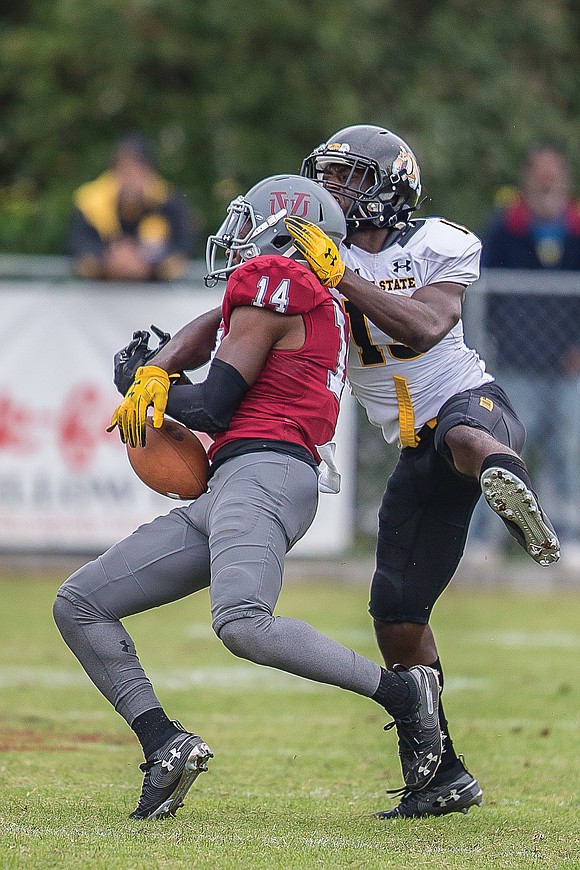 Saturday, Oct. 27
football schedule
Virginia Union University plays at Elizabeth City State University. Kickoff: 1 p.m.
Virginia State University plays Chowan University at Rogers Stadium in Ettrick. Kickoff: 2 p.m.
Bowie State University plays at Lincoln University of Pennsylvania. Kickoff: 1 p.m.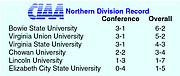 Amir Hall has rained on Virginia Union University's parade — "rain" coming in the form of a blizzard of pigskins.
The VUU Panthers' painful 27-13 home defeat last Saturday by the Hall-led Bowie State University places VUU on the outside peering in at a CIAA Northern Division title.
Even if Panthers Coach Alvin Parker's squad finishes 7-2 overall and 5-1 in the CIAA, the team likely would lose a head-to-head tiebreaker to Bowie State.
Bowie State finishes the season against two of the CIAA's bottom feeders, Lincoln University and Elizabeth City State University. Bowie State also holds a tiebreaker over Virginia State University, should the Trojans finish with the same conference record.
VUU let this one get away. The Panthers were facing their biggest divisional rivals — Bowie State and then VSU on Nov. 3 — on its home turf at Hovey Field. That provided the Panthers a real chance to run the table and extend the season to the Nov. 10 CIAA championship game in Salem.
At least the Hovey Field crowd and the ASPiRE national television audience saw history last Saturday. Hall completed 33 of 49 passes for 370 yards and two touchdowns, the 89th and 90th of his glitzy career.
The pair of touchdown tosses enabled Hall, a senior from Upper Marlboro, Md., to pass North Carolina Central University's Earl Harvey as the CIAA's all-time TD passer.
Meanwhile, life goes on.
The Panthers play at Elizabeth City State University on Saturday, Oct. 27, and close Saturday, Nov. 3, at home against Virginia State. A strong finish might elevate VUU into the NCAA Division II playoff discussion, although there are no assurances.
In falling to Bowie State, at least three Panthers sparkled: One on offense, one defensively and a third on special teams.
Tabyus Taylor rambled for 131 yards on 22 carries and added another 18 yards on five receptions from quarterback Darius Taylor.
Taylor's locomotive-style runs, wearing jersey No. 9, inspired ASPiRE television commentator Stan Lewter to nickname him, "Engine, Engine No. 9."
The brutish 250-pound sophomore from Hopewell now has 1,046 yards in just seven games with a 6.0 yards per-carry average. He's in position not only to lead the CIAA in rushing, but all of NCAA Division II.
With a couple of minutes left against Bowie State, Taylor put on a show that won't soon be forgotten. Receiving a kickoff at his own 5 yard line, the big man rambled 95 yards for an apparent touchdown, outlegging and outmaneuvering smaller defenders en route.
An illegal downfield block reduced the return to 61 yards, voiding the touchdown. But there are few men of Taylor's size, on any level, capable of taking it to the house in that jaw-dropping manner.
Defensively, safety Sterling Hammond had 12 tackles and a rare interception off Hall. Hammond had a second pick nullified by penalty.
The junior from Essex High School is the reigning CIAA Defensive Player of the Year and among the league's top NFL prospects in decades.
Another attention-getter in maroon and steel has been place kicker Jefferson Souza, a strong-legged sophomore from Deerfield Beach, Fla. Souza booted two field goals against Bowie State, including a 43-yarder.
He has nine field goals for the season, including three beyond 40 yards, in 11 tries. Souza needs one more trey to tie record holder Tony Oby, who kicked 12 3-pointers in 2003.
The steady Floridian is also 34-for-35 on extra points. On 52 kickoffs, his average distance is 60.2 yards, usually reducing opposition to mediocre field position.
VUU enjoyed some bright moments against Bowie State, but not enough. With Hall mostly to blame, you might say the Panthers were "rained out" of a possible title.