For the record books: VUU drubs Lincoln 90-0 at homecoming
Fred Jeter | 10/11/2018, 6 a.m.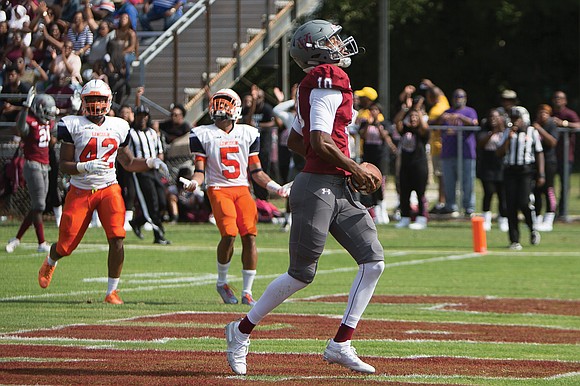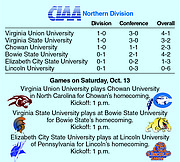 Looking back, Virginia Union University football has been on a historical roll. Gazing ahead, there are bumps in the road.
After treating VUU students, alumni and fans to a 90-0 homecoming victory over hapless Lincoln University last Saturday at Hovey Field, the Panthers will be seriously tested Saturday, Oct. 13, during its game against an energized Chowan University in North Carolina.
Spurred by quarterback Bryce Witt from Dinwiddie County, Chowan is coming off a rousing victory of its own — a jaw-dropping 42-23 upset of Bowie State University.
With four weeks left in the regular season, the CIAA Northern Division is a four-school tug-o-war between Virginia Union, Virginia State, Bowie State and Chowan.
VUU has a 7-3 series lead over the Hawks and haunting memories from its last trip to the campus in rural Murfreesboro, N.C. In 2016, VUU was blasted by Chowan 54-21, while the Panthers won 35-10 a year ago in Richmond.
First-year Coach Alvin Parker's Panthers will be riding a wave of momentum to North Carolina. In annihilating Lincoln, VUU scored a school record 12 touchdowns, with nine different players getting in on the act. It was the most points scored by the Panthers since a 91-0 rout of St. Paul's College in 1916.
VUU's 494 rushing yards last Saturday against the Lincoln Lions also broke the school record of 490 rushing yards against Virginia State in 2009.
If there is a superior runner in the CIAA to VUU's Tabyus Taylor, Lincoln University doesn't want to see him.
Shredding the Lions' defense, Taylor amassed 235 yards rushing with three touchdowns, including a rousing 68-yard TD. He added another 51 yards on two receptions.
Taylor's 235 yards on the ground fell short of the Panthers' single game record of 260 yards set by Judge Thomas against St. Paul's in 1976. Taylor likely would have surpassed Thomas if he hadn't been rested much of the second half.
A bullish 250-pound sophomore from Hopewell, Taylor leads the CIAA in rushing (140 yard average) and touchdowns (11).
The week prior to the Panthers' onslaught against Lincoln, VUU quarterback Darius Taylor tied the Panthers' school record with six touchdown passes against Livingstone College.
The long list of Panthers homecoming superlatives included highlight-reel touchdowns by Jaiden Reavis and Sterling Hammond.
An emerging star, Reavis returned a punt 45 yards for a touchdown and snagged a 39-yard touchdown pass from Darius Taylor. A sophomore from Highland Springs, Reavis also returned a punt for a touchdown the previous week against Livingstone.
Defensively, CIAA 2017 Player of the Year Sterling Hammond added six points with a 26-yard fumble recovery and return.
Defensive back Taj Conway from Henrico County's J.R. Tucker High School led the Panthers defense with nine tackles.
At risk of being a "Debbie Downer," the Panthers had best buckle their chin straps for a potential rocky ride ahead. Chowan University has proven its mettle.
After that, Bowie State comes to Hovey Field on Saturday, Oct. 20, featuring All-American quarterback Amir Hall.
VUU plays Elizabeth City State University on Saturday, Oct. 27, setting the stage for a Saturday, Nov. 3, finale at Hovey Field against defending CIAA champion VSU.
At this juncture, it's likely the VUU-VSU match will have a serious impact on who advances to the Nov. 10 CIAA championship game in Salem.
NCAA Division II playoff berths are also very much up for grabs in the coming weeks. Both VSU and Bowie State went to the playoffs a year ago.