Ashe meeting postponed
9/13/2018, 6 a.m.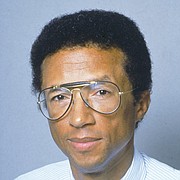 A community meeting set for Thursday, Sept. 13, on renaming the Boulevard for Richmond-born tennis great Arthur Ashe has been called off ahead of the pending storm.
On Monday, Richmond City Councilwoman Kim B. Gray, 2nd District, announced the postponement of the public hearing at the Virginia Museum of Fine Arts because of the expected heavy rains and high winds from Hurricane Florence.
Ms. Gray, who is championing the renaming, stated a new hearing date would be announced as soon as possible and before City Council votes on the issue.