Panthers 2019-20 football schedule announced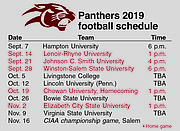 Virginia Union University and Hampton University have agreed to renew their ancient football rivalry.
The VUU Panthers will open their 2019 season at HU's Armstrong Stadium at 6 p.m. Sept. 7. 
VUU and HU last met in 1994 when both were CIAA members. The Pirates prevailed 56-6 in that contest a quarter century ago.
This will be the first meeting between the two HBCU's since HU left the CIAA and NCAA Division II for the Mid-Eastern Athletic Conference in Division I. Last year, Hampton moved again, to the Division I Big South Conference.
VUU and HU first met in 1906 in Richmond, with the Pirates winning 6-5. The overall series stands at 40-40-3, according to VUU records.
Following the trip to Hampton, VUU will launch its home season with a visit from powerful Lenoir-Rhyne University of Hickory, N.C. The South Atlantic Conference school was 12-2 a year ago while advancing to the third round of the NCAA Division II playoffs.
VUU will be playing a 10-game schedule next season, with five home and five away games. A hoped-for 11th game would be in Salem for the CIAA championship.
VUU is coming off an 8-2 season under Coach Alvin Parker. The Panthers won seven of their last eight games, narrowly missing a bid to the NCAA football playoffs.
The Panthers will celebrate the 2019 homecoming with a Sept. 19 game against Chowan University of North Carolina.
The traditional regular season finale will be at Virginia State University on Nov. 9.