School Board member Jonathan Young springs open enrollment attendance plan on colleagues
Ronald E. Carrington | 8/9/2019, 6 a.m. | Updated on 8/16/2019, 7:57 p.m.
"This plan will more than double our (current) annual $6.4 million transportation budget," he said, adding that "savings will amount to more than $2.5 million a year to invest in open enrollment."
The board took no action on Mr. Young's proposal.
Richmond Superintendent Jason Kamras reaffirmed the fact that "rezoning is a complicated issue."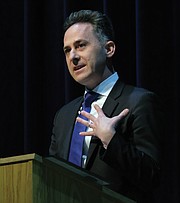 "We should continue to push forward," he said. "The rezoning committee has some momentum and we should continue down that path. Come September, if the board feels whatever solutions they have around diversity need more time, so be it."
Mr. Kamras also noted that the board could decide on a rezoning plan in November or December, but it would not have to take effect in the fall of 2020.
"The timeline of implementation, which can be extended, is an important discussion," he said.
The School Board wants community input on the rezoning proposals and has set up more public meetings for feedback. Meetings scheduled for this month are:
• Tuesday, Aug. 20, 6 to 8 p.m., John Marshall High School, 4225 Old Brook Road;
• Wednesday, Aug. 21, 6 to 8 p.m., Southside Community Services Center, 4100 Hull Street Road;
• Thursday, Aug. 22, 6 to 8 p.m.; Mar- tin Luther King Jr. Middle School, 1000 Mosby St.; and
• Friday, Aug. 23, 6 to 8 p.m. John B. Cary Elementary School, 3021 Maplewood Ave.