Much of NSU Spartans' talent comes from Richmond area
Football recruiters have worn a path between Norfolk State University and Richmond area high schools.
When the Spartans open this Saturday, Aug. 31, at Old Dominion University, NSU's roster will be teaming with athletes from the 804 area code.
Two players front and center may determine the success of the MEAC-affiliated team.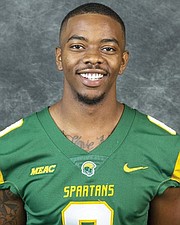 Juwan "Pootie" Carter, junior quarterback from Highland Springs High School in Henrico County: The dynamic dual threat passed for 2,302 yards and 13 touchdowns last season. He also ran for 388 yards and two touchdowns, including a 47-yarder.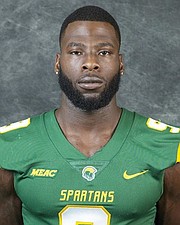 Nigel Chavis, a senior linebacker from Richmond's Armstrong High School: An elite defender, the 230- pound Chavis made 71 tackles in 2018, including 13 for losses. He also had eight quarterback hurries, recovered two fumbles and forced two more.
Other Richmond area athletes figuring heavily into Coach Latrell Scott's plans: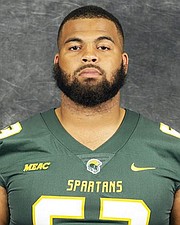 Craig Rodwell Jr., a senior offensive lineman from Varina High School in Henrico: At 6-foot-4 and 290 pounds, he serves as a primary bodyguard for Carter and the Spartans running backs. Rodwell started all 11 games last season at right guard.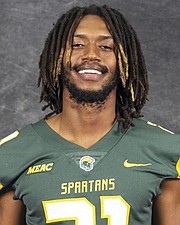 J.J. Givens, a junior receiver from Atlee High School in Hanover County: After transferring from North Carolina State University, the fleet Givens will be among Carter's top targets.
Ian Williams, a junior offensive lineman from Benedictine College Preparatory in Goochland County: He was named the team's most improved lineman following spring practice.
The list goes on and on: Justin Smith, junior receiver, Benedictine; Rayquan Smith, freshman receiver, Highland Springs High; Tremayne Talbert, freshman receiver, Highland Springs High; R.J. Coles, freshman defensive back, Varina High; Sean Rettzo, tight end, Thomas Dale High School in Chesterfield County; Devyn Coles, defensive back, Highland Springs High; Cameron Foreman, back, Atlee High; Treashawn Smith, linebacker, Thomas Dale High; Tavian Blackwell, defensive line, Highland Springs High; and Chris Butler, wide receiver, Glen Allen High School in Henrico.
The NSU-Richmond connection isn't by chance. NSU's coaching staff has deep roots in the 804. Coach Scott played at Lee-Davis High School in Hanover County and coached at the University of Richmond and Virginia State University.
Associate head Coach Andrew Faison coached 10 seasons at Virginia State University, while quarterbacks Coach Aaron Corp played and coached at the University of Richmond.
The Spartans have drawn a tough assignment for their opener. NSU plays in the NCAA's FCS Division, while neighboring ODU is in the FBS, the highest classification. FBS schools are allowed 85 scholarships; FCS schools, 63.
The ODU Monarchs are part of Conference USA and have won three previous matchups with NSU 35-18 in 2011, 27-24 in 2013 and 24-10 in 2015.
NSU was 4-7 overall and 2-5 in MEAC last season. ODU was 4-8 overall a year ago, with a bold-letter upset over Virginia Tech.
Gazing ahead, NSU will host Virginia State University on Saturday, Sept. 7, while ODU will travel to Blacksburg for a rematch with the Virginia Tech Hokies.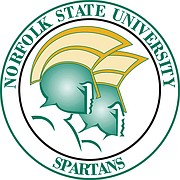 Football is here!
Norfolk State University plays Old Dominion University, 7 p.m. Saturday, Aug. 31, S.B. Ballard Stadium at ODU; game to be broadcast on ESPN3.