Chesterfield's Charles Williams racking up the points at Howard
Fred Jeter | 12/13/2019, 6 a.m.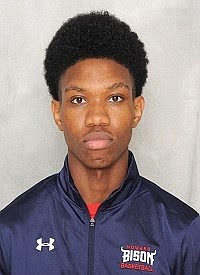 Charles Williams is already the top scorer in Howard University hoops history.
And he's just loosening up.
Before he's through, Williams could be the No. 1 scorer in MEAC history as well.
Answering to "CJ" and also "Bean," the 6-foot-6, 185-pound senior shooting guard hails from tiny Millwood School in the leafy Woodlake subdivision of western Chesterfield County.
From humble roots, Williams was never blinded by the bright lights of NCAADivision I or How- ard's Washington D.C. campus.
"I felt I had a chance to contribute when I came here," Wil- liams said in a Free Press phone interview. "But I never expected to be the leading scorer.
"Still, my goals aren't about scoring the most points. I'm here to be a leader and help us win games, win the MEAC, go to the NCAAs."
Williams, a health care management major, became Howard University's all-time scorer Saturday, Nov. 30, with 13 points in the Bison's loss to Mount St. Mary's. That enabled him to pass James Daniel III, a guard from Hampton, who starred for the Bison from 2013 to 2017. Daniel now plays professionally in Cyprus.
Williams added 23 points Thursday, Dec. 5, in the Bison's first win of the season at Hampton University. That lifted his career total to 1,976 points, with at least 22 games left.
If Williams' current per game average of 17.7 points holds, he will eclipse the MEAC career standard of 2,275 points set by Delaware State University's Tom Davis between 1987 and 1991.
Williams scored 531 points as a freshman, earning All-MEAC rookie honors. He tallied 673 and 590 points, respectively, as a sophomore and junior, making the All-MEAC team both seasons.
As a junior, he was selected to the Boxtorow All-America team.
His nickname "Bean" is derived from his favorite player, former NBA star Kobe Bean Bryant. Like Bryant, Williams is versatile offensively, capable of scoring from all over.
The son of Michelle and Charles Williams, a former Virginia State University basketball player, he played under the radar at Millwood. In fact, Williams was part of Millwood's first varsity team five years ago. There were fewer than 100 students in the upper school at the time.
"We tried to lay the foundation," said Williams, who previously had attended Evangel Christian School in southern Chesterfield County. He never enrolled at his zoned public school, Thomas Dale High School in Chester.
Mission accomplished at Millwood. In the Knights' first season, the team won the Virginia Independent Schools Division III crown.
"It was a unique experience," Williams said. "We got a buzz going around Richmond."
It was no accident he went from Millwood to Howard University. Williams' father is a close friend of former Bison Coach Kevin Nickelberry.
Following nine seasons at Howard, Nickelberry resigned after last season and was replaced by Ken Blakeney.
This season's squad took a major hit when standout R.J. Cole, MEAC Player of the Year in 2019, transferred to the University of Connecticut.
And there was some worry Williams might pass on his senior year to try his luck with the NBA draft. He went so far as to "declare" for the draft, but backed out before losing college eligibility.
"In the back of my mind, I knew I was coming back" to Howard, he said.
Bison faithful breathed a sigh of relief. Williams was second in MEAC scoring as a junior, behind only teammate Cole.
Only one Bison alumnus, Larry Spriggs,who was at Howard 1978 to 1981, has spent any appreciable time in the NBA.
"I definitely have plans after college — if not the NBA, the G-League or overseas," Williams said.
It hasn't been a smooth ride in Coach Blakeney's first season.
The road-weary Bison started 0-9 before the win at Hampton. Only two of the team's first 10 games were at Howard's Burr Gym.
"I haven't lost the faith," Williams said.
Meanwhile, Bison opponents are still searching to find the "off" switch on Howard's all-time point machine.