Quarterbacks Tom Brady, Jared Goff betting on a Super Bowl win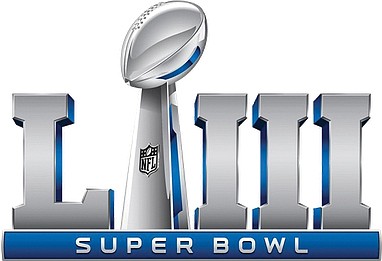 What would the Super Bowl be without betting and, with that, the office pool?
You can lay a friendly wager on just about anything, ranging from who wins the coin flip, to how long the national anthem takes, to when — if ever — stoic New England Patriots Coach Bill Belichick cracks a smile, to the game's champion.
But if you're gambling on who will be named most valuable player, smart money is on the quarterbacks.
Quarterbacks have been chosen MVPs of the Super Bowl 29 times, followed by running backs, seven times; wide receivers, six times; and linebackers, four times.
New England's ageless quarterback, 40-year-old Tom Brady, leads the Super Bowl MVP record with five MVP awards. He is aiming for No. 6 when the Patriots face the Los Angeles Rams on Sunday, Feb. 3, for Super Bowl LIII.
Brady and the Rams' precocious quarterback, Jared Goff, 24, will be central figures — on the field and among gamblers — for this year's event at Atlanta's Mercedes-Benz Stadium.
Last year's MVP was quarterback Nick Foles of the champion Philadelphia Eagles. Green Bay Packers quarterback Bart Starr was the first MVP in 1967, and again in 1968.
•
The main men in protecting right-handed quarterbacks like Brady and Goff are the offensive left tackles on what is known as the "blind side."
Little guys need not apply.
Jersey No. 77, in size XXXL, is worn by both squads' left tackles, the Patriots' Brent Brown and the Rams' Andrew Whitworth. Brown, out of the University of Florida, is 6-foot-8 and 355 pounds; Whitworth, out of Louisiana State University, is 6-foot-7 and 335 pounds.
Thinking of betting on the big boys? No left tackle has ever been the game's MVP. However, it's the "blind side" security that might determine who the MVP will be.
•
Two players most likely to be humming "Georgia On My Mind" are the teams' leading ground gainers. Patriots rookie sensation Sony Michel and Rams top rusher Todd Gurley both hail from the University of Georgia.
Michel, who is of Haitian ancestry, has been brilliant in the postseason, with 242 yards on the ground and five touchdowns. Gurley has enjoyed an All-Pro season but was held to just 13 yards against the New Orleans Saints in the NFC final.
The first running back named Super Bowl MVP was the Pittsburgh Steelers' Franco Harris in 1975. Harris was also the first black MVP.
The most recent ball carrier named MVP was the Dallas Cowboys' Emmitt Smith in 1994. Betting on a running back for MVP might be a wise idea if you relish long shots.
•
James White and Robert Woods, their squad's top receivers, have common names but exceptional games.