Los Angeles Rams, New England Patriots headed to Super Bowl LIII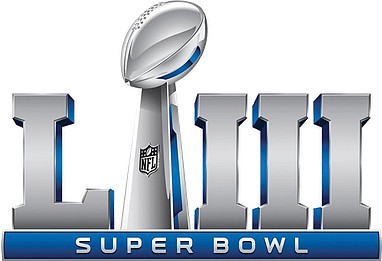 Rematch!
The Los Angeles Rams will get a long-awaited chance for redemption in Super Bowl LIII when they meet the New England Patriots on Sunday, Feb. 3.
In Super Bowl XXVI in February 2002, the culmination of the NFL's 2001 season, the then-St. Louis Rams lost to the New Patriots 20-17 on a game-ending field goal by Adam Vinatieri.
It ranks among the biggest upsets in Super Bowl annals.
The Rams, then renowned as the "Greatest Show on Turf," were 14-point favorites to win the game. It also served as a coming out party for the Patriots' quarterback Tom Brady, then in his second year.
Brady, who took over for an injured Drew Bledsoe earlier in the season, was named Super Bowl MVP. Brady remains the New England quarterback and is arguably the greatest of all time based on team success.
The Rams played in Los Angeles from 1946 to 1994 before moving to St. Louis. The team moved back to L.A. in 2015.
Super Bowl LIII
When: Sunday, Feb. 3; kickoff, 6:30 p.m.
Where: Mercedes-Benz Stadium in Atlanta, seating 71,000.
Teams: AFC champion New England Patriots (13-5) versus NFC champion Los Angeles Rams (15-3).
How they got here: On Sunday, Jan. 20, the New England Patriots defeated the Kansas City Chiefs 37-31 in overtime for the AFC title, while the Los Angeles Rams defeated the New Orleans Saints 26-23 in overtime for the NFC crown.
Favorite: The Patriots by 1.5 points
Broadcast: The game can be seen and heard on CBS television and Westwood One radio.
National anthem: To be sung by Gladys Knight.
Halftime show: Performers, pop band Maroon 5 and rappers Travis Scott and Big Boi.
Tickets: From $3,000 to $6,000, according to TickPick.com.
Super Bowl party menu suggestion: With Georgia flavor in mind, who could turn down shrimp and grits with pork rinds, followed by peach cobbler.
Coaches: New England Coach Bill Belichick since 2000, 225-79 regular season and 29-10 in the playoffs, with five Super Bowl victories; Los Angeles Coach Sean McVay, second year, 24-8 overall, 2-1 in the playoffs.
Teams' Super Bowl records: New England 5-5, winning the championship in 2001, 2003, 2004, 2014 and 2016; Los Angeles 1-2, as the St. Louis Rams defeated the Tennessee Titans in 2000 to win Super Bowl XXXIV.