Sophomore Roosevelt Wheeler is John Marshall High's tall secret weapon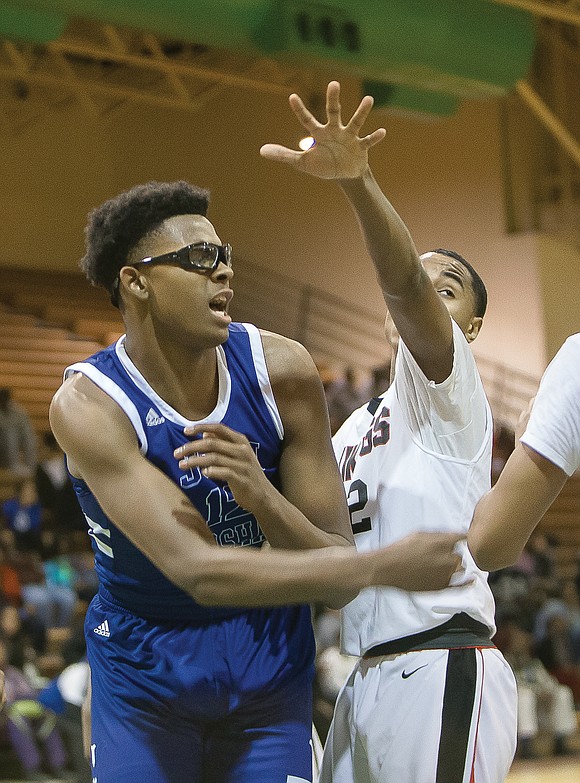 Young basketball players and teams generally are taught to work the ball inside for a higher percentage of shots close to the basket.
That strategy is likely to backfire against Richmond's John Marshall High School.
Facing the Justices, the closer to the basket the opponents get, the higher the degree of difficulty becomes.
It's in the painted area that Roosevelt Wheeler looms like Mount Everest, towering and intimidating.
"He's a crazy shot blocker," said John Marshall Coach Ty White.
"Big Rose," as Wheeler is known, stands 6-foot-10 and has a 7-foot wing span. He wears size 15 lime green sneakers and seems to cover the length of the court in about four strides.
And here's some more bad news for future John Marshall opponents. Wheeler, who plays in dark-rimmed glasses, is only a sophomore. He turned 16 on Jan. 15.
"And he'll probably grow another two inches," Coach White said with a smile.
Wheeler has some serious coordination to go with all that height. Among his favorite things is showing off his fancy footwork with a dance called the "woah."
"I like doing it for the guys," he said of his teammates.
Asked about his goals, the congenial Wheeler said, "I'd like to help win the state championship — and keep winning them four straight."
As a freshman, Wheeler came off the bench a year ago to help John Marshall win the State 3A title. Since then, All-State Isaiah Todd, also 6-foot-10, has transferred to Trinity Academy in Raleigh, N.C.
That leaves Wheeler as the only regular member of the team taller than 6-foot-4.
A Todd-Wheeler comparison is inevitable.
"They're entirely different players," Coach White said. "Isaiah is more of a perimeter player on offense. Rose is a traditional low-post center."
Defensively, Wheeler may even have the edge with gas-pump arms and timing.
"What I like best about basketball is blocking shots and dunking," he said.
A well-drilled Douglas Freeman outfit from Henrico County found out when John Marshall beat them in 74-57 on Jan. 8.
Entering the game late in the first quarter, Wheeler sent about five Freeman shots into reverse as the Justices pulled away. Several of the blocks led directly to John Marshall transition scores.
In only about 16 minutes, Wheeler finished with 10 points (four dunks), 10 rebounds and seven blocks.
Some background is in order.
Wheeler grew up in Atlanta before moving to Hampton. He later moved with his mother, Deborah Davis, from Hampton to Richmond's North Side prior to last school year. He went directly from Hampton's Lindsey Middle School to John Marshall High's state championship varsity a year ago.
Last summer, Wheeler was a dominant force on Team Loaded AAU that posted a 40-0 record while claiming a national title.
There has been a bump in the road, however. In September, Wheeler suffered an injury to his left patella tendon and required surgery.
This season, he sat out the first seven games before returning to action in late December at a tournament at, coincidentally, Wheeler High School in Marietta, Ga., near his hometown of Atlanta.
While Wheeler seems nearly fully healed, Coach White is still limiting his minutes, knowing the most significant games of the season are to come.
This John Marshall squad has firepower galore. Fourth-year starting guards Levar Allen and DeMarr McRae are a gifted tandem. Jairus Ashlock, Elijah Seward and Aubrey Merrit each would be the leading scorer on many other teams.
And then there's "Big Rose" putting up a human stop sign near the hoop.
If the Justices are to go all the way again, you might see his famous "whoa" dance displayed at Virginia Commonwealth University's Siegel Center at the state tournament. If so, all of North Side might want to dance with him.