JM's Roosevelt Wheeler chooses Louisville
Fred Jeter | 11/19/2020, 6 p.m.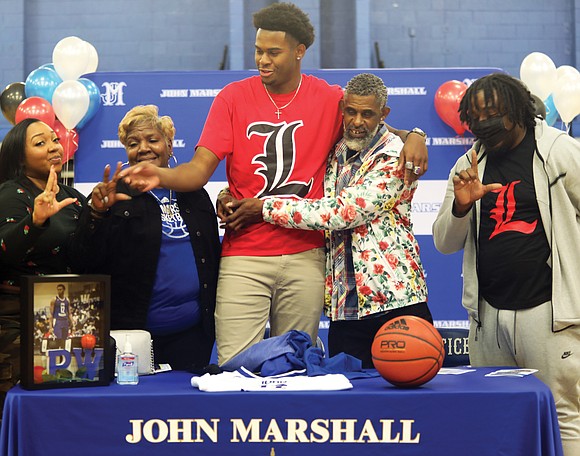 The suspense peaked as senior Roosevelt Wheeler stood in front of the gallery of people Monday as he removed his blue John Marshall High School jacket.
Under his outer wrap was a red and black T-shirt with a long "L" on the front.
That meant the Justices' 6-foot-10, All-State basketball center had chosen the University of Louisville, where he will play basketball next year. He made it official by putting his signature on a National Letter of Intent.
"It was a very difficult decision, but I'm taking my talents to Louisville," he told the media afterward inside the John Marshall gym.
He quickly added, "The other schools recruiting me were amazing."
Wheeler stressed that Virginia Commonwealth University was the clear second choice.
"If it hadn't been Louisville, it would have been VCU. It was very close, very close," he said.
Other schools Wheeler had considered as he whittled down his decision were North Carolina State University, Louisiana State University and Hampton University.
A native of Atlanta, Wheeler moved to Richmond as a ninth-grader and was a top backup behind Isaiah Todd on John Marshall's 2017 State 3A title.
Last winter as a junior, Wheeler dominated inside the lane while helping the Justices to the state 2A crown under head Coach Ty White. He is ranked as the nation's 60th best high school prospect by 247Sports.com.
Louisville has a storied national reputation playing in the Atlantic Coast Conference under Coach Chris Mack.
Wheeler was on an official Louisville recruiting visit last Feb. 8 when he saw the Cardinals defeat defending NCAA champion University of Virginia 80-73 before 19,250 frantic fans at the KFC Yum! Center. It was an impressionable evening and, no doubt, weighed into Wheeler's final decision.
The Cardinals have won three NCAA titles — 1980, 1996 and 2013 — and have been to 10 Final Fours and 16 Sweet 16s.
Louisville was 24-7 overall last season and 15-5 in the ACC, tied for second. The Cardinals would have advanced to the NCAA Tournament last March if not for the COVID- 19 pandemic.
It is unlikely Wheeler will be able to play his senior year. First of all, he suffered an Achilles tendon injury and is now in a walking boot. He remains positive he will be 100 percent healed by the time he enrolls at Louisville next summer.
Also, as of now, Richmond Public Schools has canceled basketball and other winter sports because of the pandemic.
Wheeler's John Marshall teammates, coaches, teachers and school administrators were in attendance for the signing, along with numerous family members, friends and media.