Showdown expected at Feb. 11 City Council meeting over renaming Boulevard for Arthur Ashe Jr.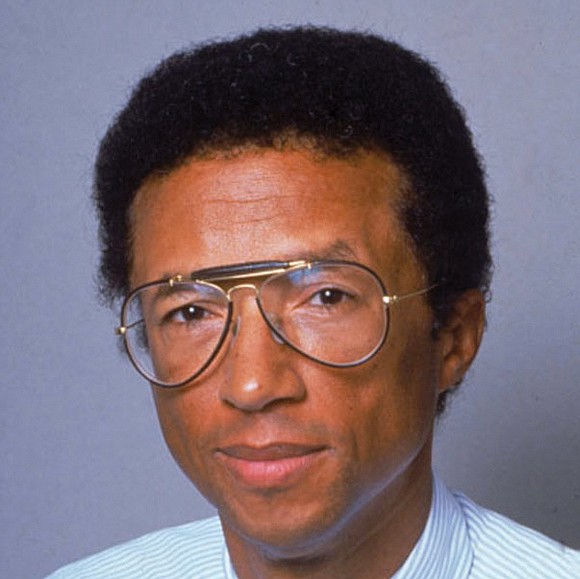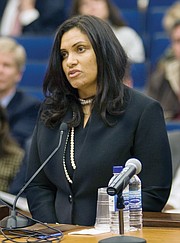 Will the Boulevard be renamed for Richmond-born tennis great and humanitarian Arthur Ashe Jr.?
Will vehicle traffic on Brook Road be limited to one lane in each direction to make room for bike lanes?
Will the mayor's request to put off school modernization until he leaves office become city policy?
These thorny questions are now headed to Richmond City Council after advancing from committees.
On Tuesday, legislation to create Arthur Ashe Boulevard and to kill the Brook Road bike lanes cleared the council's Land Use, Housing and Transportation Committee.
The three-member committee voted to send both issues to the full council without a recommendation, ensuring additional debate, according to Councilwoman Ellen F. Robertson, 6th District, the committee's chair.
Controversy surrounds the Arthur Ashe proposal that Councilwoman Kim B. Gray, 2nd District, is spearheading in a third attempt the rename the Boulevard for Mr. Ashe. City Council voted down attempts to rename it in 1993 and 2003.
Twenty-two people, including 10 who support the renaming and 12 who oppose it, spoke Tuesday before the Land Use Committee that also includes Ms. Gray and Councilman Michael J. Jones, 9th District.
In an attempt at a compromise, opponents of changing the official street name urged the committee to post honorary brown street signs with Mr. Ashe's name.
"Post them on every lamppost and pole on the street," said one opponent in broaching what was called a compromise.
But Ms. Gray said after the meeting that idea is a non-starter for her.
"We use honorary street signs to celebrate people who have contributed to a specific community. This is just not good enough for someone of Arthur Ashe's stature."
Dr. Jones, who has not committed to voting for the name change, also rejected that idea. "If we are going to honor Arthur Ashe, let's do it right."
Concerned about the community split the proposal is creating, Dr. Jones hinted he might be more interested in seeking to rename the Downtown Expressway for Mr. Ashe, who died in 1993.
Two other council members who represent portions of the Boulevard, Parker C. Agelasto, 5th District, an Andreas D. Addison, 1st District, have indicated they would vote against renaming the street.
The proposal is scheduled to be heard at the City Council meeting on Monday, Feb. 11.

Ms. Gray, though, believes that renaming the Boulevard would be a "beautiful story" that would both give Richmond national attention and also serve as redemption for the city's mistreatment of Mr. Ashe, who was barred as a youth "because of the color of his skin" from playing on the courts at Byrd Park, which are located at one end of the Boulevard. He returned to Richmond in 1968 to play on those courts in leading the U.S. Davis Cup team to victory in preliminary rounds.
Ms. Robertson supports the renaming plan. She started her service on City Council in 2003 at the meeting where a majority of members rejected renaming the Boulevard for Mr. Ashe.
She sees Richmond receiving another gift from Mr. Ashe by being allowed to use his name on the street. She said the city would benefit from having a major street named for a man who is known around the world.
The Land Use Committee took its vote after learning the projected cost of changing 38 street signs along the Boulevard would cost about $30,000. The state and the Richmond Metropolitan Transportation Authority might need to spend a collective $300,000 to change interstate and Downtown Expressway signs, according to the projections.
Separately at the committee meeting, Ms. Gray secured a vote that will put the Brook Road bike lanes on the council docket for its Monday, Jan. 28, meeting.
Ms. Gray and Council Vice President Chris A. Hilbert, 3rd District, who represents a portion of the North Side thoroughfare, are pushing legislation to block plans for the bike lanes, which have been proposed for 20 years and under serious planning since 2016.
Ms. Gray continued to express dissatisfaction with City Hall's current Brook Road bike lane plan after the committee heard a presentation on the project from Jakob Helmboldt, the city's pedestrian, bicycle and trails coordinator, as well as from four opponents and six supporters of the cycling lanes.
While advocates see health benefits and reduced traffic speed, Ms. Gray agrees with people like retired businesswoman Jean T. Williams, who sees the cycling lanes creating greater congestion and more hazards.
Allen Griffin, a solar installation company owner, also disputed the benefits. He said he bikes 80 miles a week on North Side, but he's the only cyclist he ever sees on Brook Road. "People don't use the street for biking," he said.
Meanwhile, Ms. Gray also said she would vote to reject the mayor's resolution that calls for using $650 million in city bond capacity over the next 20 years to modernize decaying school buildings. The resolution does not spell out which schools would be fixed.
"This is not a plan," she said, in dismissing the resolution as a feel-good exercise that does not meet the requirements of a charter provision approved last year by Richmond voters.
City Council's Finance and Economic Development Committee voted 3-0 to advance the resolution to the full council for next Monday's meeting in the face of criticism from Paul Goldman, leader of the Put Schools First Campaign, who described the resolution as "pathetic."