Cherry Pick'd yields crops of good fighters, people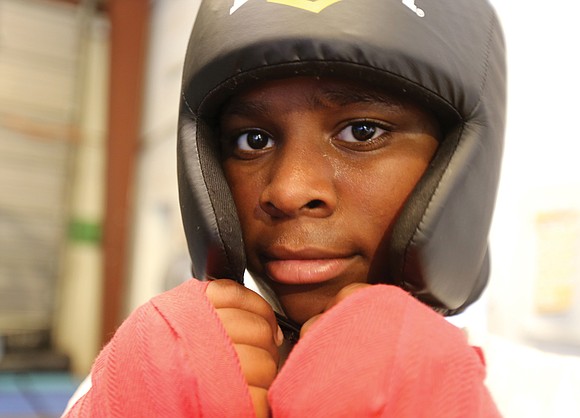 Cherry Pick'd Boxing & Fitness is where young people go to work up a sweat, release frustrations and get a handle on life.
It's official address is 2300 N. Lombardy St. in the city's North Side.
But considering the gym's mission, a more apropos address might be at the intersection of High Hopes and Second Chances.
"We're all about betterment," said Tony Cherry, the head coach and financier of the project. "We deal with many at-risk kids, some even with ankle bracelets. But we're into producing good fighters and good people."
Results are encouraging on both fronts.
For those interested in signing up, Cherry Pick'd is directly across the street from Virginia Union University's Barco-Stevens Hall.
Mr. Cherry said he'll keep the light on for you, but come prepared. Training takes place in a no-frills building with two garage doors left wide open to assist with ventilation. Before it was a boxing gym, it was a small factory for manufacturing picnic tables.
All of the tangible essentials are available to become a pugilist — weight-lifting apparatus, treadmills, elliptical machines, heavy bags, speed bags and maize bags. There's a rubbery, bouncy floor, which is easier on young legs.
That gear doesn't exercise itself, however. It's the young men and, yes, young women, too, who supply the energy, with Mr. Cherry the astute supervisor.
This isn't for everyone. If you don't want to work and buy into the program, it would be best to travel elsewhere. Prepare to perspire. If your shirt isn't wet when you arrive, it surely will be when you depart. Air conditioning comes in the form of fans and open garage doors.
The single ring is 16 feet by 16 feet, significantly smaller than the typical 20-by-20 rings. There's nowhere to run, nowhere to hide. It's a offensive-minded ring that rewards plowing forward aggressively, rather than back pedaling defensively.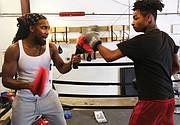 "It's toe-to-toe," Mr. Cherry said of the smallish ring. "When you get in there, you'd better be ready to fight."
Two who have thrived from Mr. Cherry's program, both in and out of the ring, are Djion Bowles, 23, and Jovon James, 17. Without revealing any details, both admit to having had troubles on the street. Now, they're channeling a rambunctious attitude and plenty of muscle into more promising directions.
"I always liked to fight," Mr. Bowles said. "This is the place to do it. No distractions here. We don't play games."
Mr. Bowles, a broad-shouldered 5-foot-10 and 154 pounds, has posted a 52-5 amateur record and hopes to turn pro later this summer. He has accumulated an impressive list of championships in Golden Gloves and Silver Gloves boxing and Junior Olympics.
Jovon, who will be a senior this fall at ManchesterHigh School in Chesterfield County, lacks polish and experience but shows much promise.
"In sparring sessions, Jovon knocks out grown me," said Mr. Cherry.
Jovon is 6-foot-2 and 165 pounds, with a rippling frame and long muscular arms. "I've definitely learned discipline. It's taken me to a new level," Jovon said. "Coming here keeps me busy," he continued. "You don't have time for anything else."
Mr. Cherry and Assistant Coach Eddie Cook are former boxers with impressive résumés. Mr. Cherry also is involved with a similar gym, East End Boxing Club on Charles City Circle near the Richmond International Airport. "We go back and forth. It's a bridge," Mr. Cherry said of the two gyms.
Cherry Pick'd is for young folks who aren't afraid to suffer a split lip or black eye. But you don't have to be that adventurous to participate. Mr. Cherry charges $80 per month for serious fighters and $50 a month for anyone just wanting to come in and get a good sweat on the equipment.
Earlier in July, Mr. Cherry ran a youth camp with emphasis on citizenship, exercise and learning job skills. He also plans an after-school program this fall and has a van to pick up children lacking transportation. Cherry Pick'd likely will continue to produce a few champions. The larger goal is to turn young lives around and churn out solid citizens. Whatever the wish, come prepared to sweat.