Jermoine Royster's 'flying fists, fancy footwork' take on pro boxing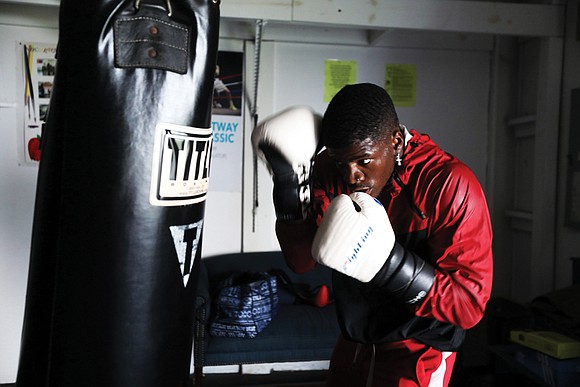 In searching for a nickname for Jermoine Royster, "The Bully" fits like a glove. A boxing glove that is.
When the 20-year-old Richmond Parks & Recreation em- ployee isn't throwing knockout punches, he's apt to be playing matchmaker, breeding "bullies," a cross between a pit-bull and a bulldog.
With a friendly chuckle, the good-natured George Wythe High graduate admits "Yes, I have been called a big bully in the ring."
One of 13 children in his family (all of whom—boys and girls—boxed), Royster is the son of Jerry Royster, a longtime boxer and boxing coach in the Richmond area.
"He's been in the ring, almost since he was born," said his dad, who now trains young pugilists at the Southside Community Center on Old Warwick Road. The gym itself is called Cobra Boxing.
With flying fists and fancy footwork, Royster dominated the amateur ranks, winning 104 of 118 fights in various weight classes. In each case, he came back to avenge his losses in rematches.
And how many were knockouts? he was asked.
"Maybe 30 ... 40 ... I lost count," he replied.
Now his power punches have graduated to the professional ranks.
He's had two pro fights — both in West Virginia — and each time the result was the same, a first round KO. His upcoming Oct. 8 fight will mark his local pro debut.
"It's kind of my homecoming," he said.

Royster said he prefers pro boxing rules to those used in the more safety-conscious amateur ranks.
"I like the smaller gloves and not having to wear a headgear," he explained. "I usually hit way harder than anyone I'm facing. It's not usually just one punch ... it's the accumulation."
Pros wear 8-ounce gloves compared to thicker 10 ounces by amateurs. Amateurs also wear headgear. Pros go bare headed.
Royster's physical prowess coupled with his many years devoted to the ring provides a clear advantage.
"I've got a high boxing IQ," he said. "My goal is to become a unified world champion."
Now weighing 147 pounds, he eventually hopes to drop weight and compete as a pro featherweight in the 126-pound class.
By day, Royster serves as a maintenance worker for the City's Southside Parks. He takes care of facilities at Westover Hills, Bellemeade and other layouts South of the James.
Lunch break for Royster isn't always a "break." "Sometimes at lunch I just go to the gym and work out," he said. Then it's back to the gym around 7 p.m. for an evening session.
Regarding his "bullies," Royster is quick to defend his dogs' behavior.
"I don't have any mean dogs," he said. "They don't fight."
In this case, the fighting is left to the two-legged, two-fisted "Bully."