Virginia lawmakers spar on reported Trump visit to Jamestown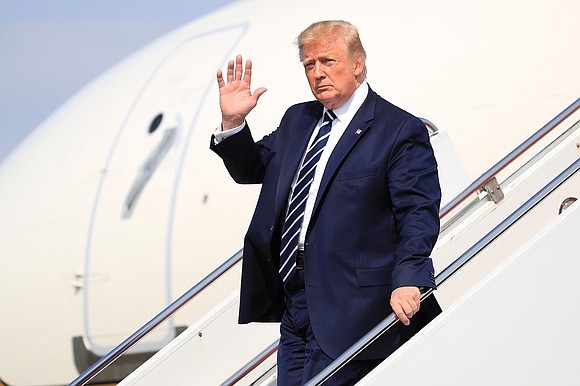 Virginia lawmakers are sparring after an as yet unconfirmed report that President Trump will attend the 400th anniversary celebration on Tuesday, July 30, of the first meeting of the state's legislative body in Jamestown.
Democratic Party leaders in the state House and Senate have threatened to boycott the event because they said President Trump "does not represent the values we would celebrate" — a reaction the Republican Senate majority leader, as expected, was quick to criticize.
The event will commemorate the 400th anniversary of representative government in America with the 1619 founding of the House of Burgesses, which was the first representative legislative assembly in America.
It is part of a weeklong observance of the state's colonial past — including the arrival of the first enslaved Africans in the former British colonies.
The report that President Trump might participate had Democrats quipping, "Send him back," playing off a chant by a crowd in North Carolina at a Trump rally where the president again targeted four congress- women of color — all Democrats — as being un-American for their political views.
"We will not be attending any part of the commemorative session where Donald Trump is in attendance," said a statement by the leadership of the Virginia House and Senate Democratic caucuses. "The current president does not represent the values that we would celebrate at the 400th anniversary of the oldest democratic body in the western world."
The heads of both caucuses are African-American. Sen. Mamie E. Locke of Hampton is chair of the Senate Democratic Caucus, while Delegate Charniele L. Herring of Alexandria is chair of the House Democratic Caucus.
Senate Majority Leader Tommy Norment, a Republican from James City County who has long been noted for his partisan statements and actions, called it dismaying that elected leaders "make partisan concerns paramount in their decisions."'
He described the decision by leading Democrats in the state to boycott the event as "disappointing and embarrassing."
However, Lt. Gov. Justin E. Fairfax, the second African-American to hold statewide office in Virginia, announced this week that he would attend the special legislative session in Jamestown regardless of whether President Trump attends.
His undeclared rival for statewide influence, Richmond Mayor Levar M. Stoney, countered by reportedly resigning from the event's steering committee to protest the invitation to President Trump. Mayor Stoney also resigned from a second committee planning events in August to mark the 400th anniversary of the arrival of the first Africans in Virginia.
The controversy comes at a time of heightened partisanship this year in Virginia, where Democrats have a chance of gaining control of the statehouse in the Nov. 5 general elections in which all 140 seats in the state Senate and House will be on the ballot.
Earlier this month, Republicans, in a highly partisan action in which Sen. Norment was front-and-center, adjourned a special session in less than two hours that was called by Gov. Ralph S. Northam, a Demo- crat, to consider gun control measures in response to a May massacre in Virginia Beach that left a dozen people dead.
In February, Gov. Northam faced intense pressure to resign after a racist picture surfaced from his 1984 medical school yearbook page. He denied be- ing in the picture but admitted to wearing blackface as a young man.
The scandal intensified when Virginia Attorney General Mark R. Herring admitted dressing in blackface as a college student and Lt. Gov. Fairfax was ac- cused by two women of sexual assault in 2000 while he was a college student and in 2004 while he was a law school student. He challenged both women's stories and fought back by taking two lie detector tests and daring them to take their allegations to court, which has not happened.
In regards to the potential Trump visit, American Evolution, the organization that is putting the Jamestown commemoration together, released a statement July 20 that noted that President Trump and House Speaker Nancy Pelosi had received invitations to participate from Gov. Northam, Sen. Norment and Republican House Speaker Kirk Cox.
"Speaker Pelosi's office declined the invitation within the last two weeks," the organization noted in the statement. "The White House has made no announcement regarding the president's plans."