Forum focuses on how to keep progress going after Ashe street renaming
George Copeland Jr. | 6/28/2019, 6 a.m.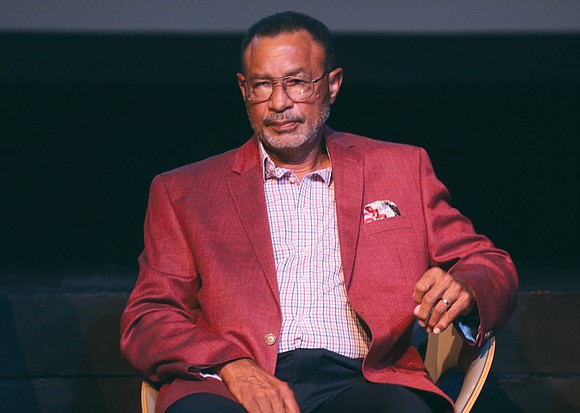 "Richmond, stand up!"
Those opening words from Dontrese Brown of the Arthur Ashe Boulevard Initiative were the backbone of the Arthur Ashe Social Justice Forum last Thursday as more than a hundred people talked about how to bring the energy generated by the renaming of the new Arthur Ashe Boulevard to other important issues in the Richmond.
The forum, a collaboration between the Virginia Museum of Fine Arts and the Afrikana Independent Film Festival, examined the late Richmond native and tennis star's legacy in social justice and kicked off the city's three-day celebration surrounding the renaming of the Boulevard to honor Mr. Ashe.
"We really want everyone in this space to be able to walk away with tangible (plans for) action — no matter how big or how small — that we can take to continue the legacy and the life of Arthur Ashe," said moderator Marc Cheatham of the Cheats Movement.
The panel included Mr. Ashe's brother, Johnnie Ashe, a residential contractor who lives in Florida; Radio One broadcaster Clovia Lawrence; Michael Paul Williams, a Richmond Times-Dispatch columnist; ESPN writer Justin Tinsley; and Sionne Neely of Initiatives of Change and the Richmond Night Market.
Johnnie Ashe talked about the community of noted African-Americans that touched their lives growing up, including the late civil rights icon Oliver W. Hill Sr. He talked about the need for people of all races and backgrounds to connect with one another. He asked audience members to take a moment and introduce themselves to the person sitting next to them.
"From this day forward, whatever you do, think of that person sitting next to you or whose hand you shook as your sister, as your brother. That's what the Master intended," Mr. Ashe. "That's what this is all about. It's not about us. It's about making a better world for our kids."
While the forum highlighted Arthur Ashe's past with a showing of the short documentaries "Ashe '68," about Mr. Ashe's victory at the U.S. Open in 1968, and "30 for 30: Johnnie & Arthur," about Mr. Ashe and his brother, the discussion centered on what the new street name means for Richmond's future.
Mr. Williams pointed to the two previously unsuccessful attempts in City Council to rename a street in Mr. Ashe's honor as evidence of the work still needed when it comes to social justice.
"Symbolism has its place and symbolism is extremely powerful. But it feels almost tragic that it took this long for this to happen," Mr. Williams said.
"The fact that we're ready to have conversations about things we need to talk about doesn't really mean a whole lot if there are so many disparities, so many issues in Richmond that we refuse to deal with," he said.
Ms. Lawrence touched on problems with Richmond's education system. The problems don't solely involve students going to school in poor conditions and having little awareness of their own history, but parents with a lack of resources unable to fill in the gaps.
"We as a community need to adopt all of our children," Ms. Lawrence said to thunderous applause.
While panelists and audience members discussed little-known civil rights figures from Richmond and the intersection of sports and activism, the talk often retuned to the importance of an involved community working collectively to create lasting change. The feeling of communal connection was aided by an enthusiastic audience that brought their own ideas for activism and excitement for what is to come in Richmond.
"This is bringing the whole city of Richmond together under one cause. We need more of this," said Jonathan Davis, who noted his daughter grew up playing tennis on the Arthur Ashe Tennis Courts in Battery Park on North Side.
Ms. Neely commented on the difficulty and scale of the work ahead.
"We have to be willing to step outside of our comfort zones and work with other people to make it happen. These things are bigger than us," Ms. Neely said.
"And it may take several lifetimes for things to change. We have to be willing to submit to that long-term process."