Words matter
Renter receives settlement from local landlord following racist, vulgar abuse and discrimination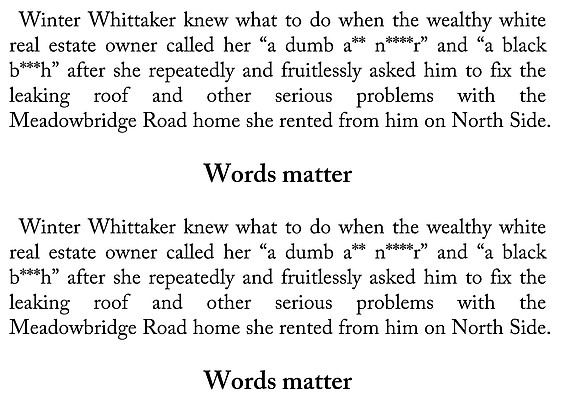 Winter Whittaker knew what to do when the wealthy white real estate owner called her "a dumb a... n....r" and "a black b....h" after she repeatedly and fruitlessly asked him to fix the leaking roof and other serious problems with the Meadowbridge Road home she rented from him on North Side.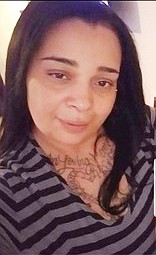 The New Jersey transplant recorded the bigoted rants.
And when landlord H. Dean Parsons dared the 47-year-old car dealership clerk and mother of two to sue him for failing to carry out his responsibilities, she bravely took him on.
Armed with the recordings containing his hideous comments, she hired an attorney and prepared to sue him for $5 million for housing discrimination and other violations of Virginia's landlord-tenant laws, including his failure to return most of her security deposit after she moved out when the lease ended.
That left Mr. Parsons with one apparent choice — to stroke a big check before Ms. Whittaker took her case to a judge and jury in Richmond with help from attorney Helen Hardiman, a Richmond-based housing discrimination specialist, and Daniel P. Watkins of Clare Locke LLP in Alexandria, who joined the suit as lead counsel for Ms. Whittaker without charge.
The size of the check is unknown because of an agreement between Ms. Whittaker, her attorneys and Mr. Parson and his attorney, Thomas M. Wolf of LeClairRyan.
But it was enough for Ms. Hardiman and Mr. Watkins to send news releases to the media announcing "an important settlement" by Mr. Parsons and his family real estate business, Intermont LLC.
The settlement apparently did not bar Ms. Whittaker and her attorneys from sending to the media copies of the unfiled lawsuit detailing the nightmarish conditions that Mr. Parsons created for Ms. Whittaker and other black women tenants living in the allegedly deteriorating properties owned by Mr. Parsons and his family company.
That information exposed the largely hidden, racist side of the prosperous Mr. Parsons and undercut a previous media portrayal of him and Intermont as a real estate success story through the ownership of 375 rental homes and apartments, largely in majority African-American neighborhoods.
Instead, Ms. Whittaker's video and audio recordings, as well as other documented complaints assembled by her attorneys, show that Mr. Parsons created his fortune by creating pain for tenants by allowing Intermont's property holdings to deteriorate and then verbally browbeating those who complained, bombarding them with racist and vulgar demands that they move out.
A prime example is a recorded exchange between Mr. Parsons and Ms. Whittaker when she told him she would sue.
"I don't give a good godda... You're just another dumb a.. n....r I got to go to court with, and I go to court every damn day with them," Mr. Parsons is heard saying on the recordings. "It ain't no big damn deal to me."
In another recorded exchange, Mr. Parsons tells Ms. Whittaker, "I hate renting to single black b.....es. Just get the f... out of my house."
In addition to Ms. Whittaker, the legal team had statements from three other renters who detailed the same pattern of racist abuse from Mr. Parsons when he was asked to repair broken toilets, water leaks and broken windows.