Contentious state NAACP election gives Barnette 2-year term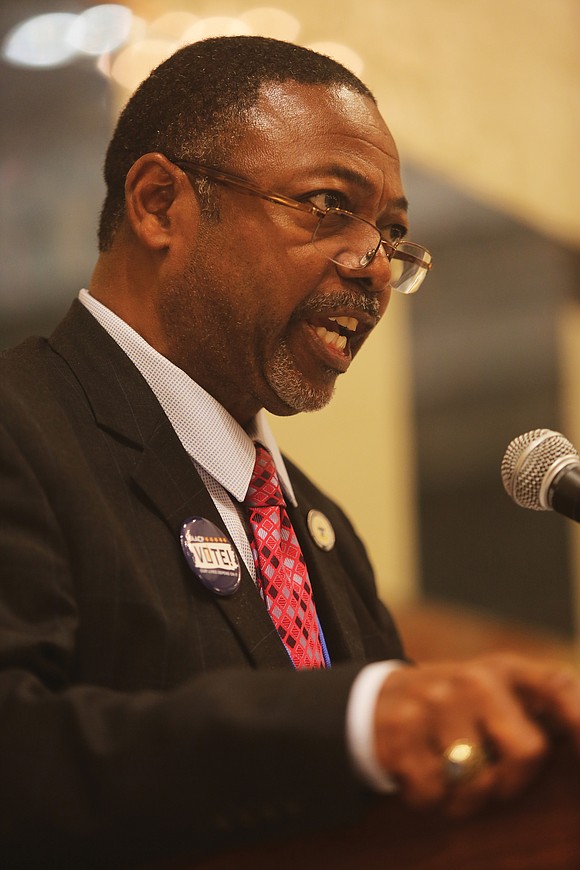 Robert N. Barnette Jr., who has led the Virginia State Conference NAACP since August when the previous presi- dent was removed, will hold the top post in the civil rights organization for the next two years after emerging victorious in a controversial election.
Mr. Barnette, 67, a retired safety engineer and president of the Hanover County Branch NAACP for seven years, was installed Sunday as state NAACP president after winning a three-way race.
He received 43 percent of the votes that 119 qualified delegates cast at the 84th state convention held last weekend at a Henrico County hotel.
Mr. Barnette fended off challenges from Pastor Michelle Thomas, president of the Loudoun County Branch NAACP, who won 33 percent of the vote, and Carmen Taylor of Hampton, a past state NAACP president, who got 24 percent.
Two other candidates for president were disqualified at the last minute — along with 48 convention delegates who sought to cast ballots — under rules that had not been announced in advance and that conference veterans said had never applied before.
Also disqualified was a reform-minded candidate, Phillip Thompson, past president of the Loudoun County Branch NAACP and a state Executive Committee member, who was unopposed for state vice president, the No. 2 leadership post.
"They made up the rules to get the results they wanted," said Mr. Thompson, who did not attend the conference but had agreed to allow Ms. Thomas to nominate him, a practice previously allowed.
In a statement, the state conference ignored the controversy. Instead, the conference highlighted the passage of new bylaws and approval of a new leadership structure, agreement to employ a research-based approach to civic engagement and assurances of a closer alignment with the national office staff and NAACP branches across the country.
Still, the way the election was carried out left Mr. Thompson and others rethinking their participation in a state organization that has struggled to maintain its membership numbers.
Total state NAACP membership is projected between 16,000 and 20,000 dues-paying members, or half the peak of the 1990s when more than 40,000 Virginians belonged, according to organization records.
The number of active chapters also has declined from more than 90 to around 60 that are up-to-date in payment of their annual assessments.
Mr. Barnette, saying he was "humbled and honored" to be elected, said his top priorities would include efforts to strengthen the organi- zation internally and to hire a new executive director to end national supervision.
He said during his tenure, the NAACP would continue to push for increasing the state minimum wage to $15 an hour and to raise the threshold for a felony charge of grand larceny from $500 to $1,500 as part of its policy agenda on social justice.
Mr. Barnette has been vested with more influence over the state's governing Executive Committee than past presidents. The newly passed bylaws allow Mr. Barnette to appoint up to 28 committee chairpersons, who will join the seven regional vice presidents, six at-large members and the secretary and treasurer on the enlarged committee.