Holiday gift assistance programs ready to give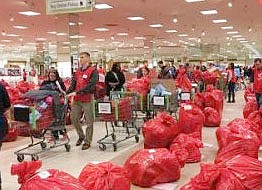 Angel Tree, Silver Bell and other holiday gift assistance programs are now in full swing in the Richmond area.
More than 5,000 low-income children and hundreds of seniors in the area are expected to receive gifts in December as a result of donations to the various programs.
The Salvation Army has a multiprong program that includes its signature Red Kettle fundraising outside stores. That effort raises about one-third of the funds the ministry uses to support its year-round, people-serving programs.
Among the Salvation Army's best known gift assistance efforts are the Angel Tree and Silver Bell programs, which allow people to pick gift requests for children and seniors from trees set up primarily in area malls, and then return with gifts targeted to those individuals and ages.
This year, trees are located at Stony Point Fashion Park in Richmond, Chesterfield Towne Center, Wegman's supermarket in Chesterfield County, Southpark Mall in Colonial Heights, and Regency Square mall, Short Pump Town Center and Virginia Center Commons in Henrico County.
Other programs the Salvation Army co-sponsors with area companies and media outlets include collections of gently used winter coats and sports equipment and filled Christmas stockings.
According to the Salvation Army, all of the collected gifts will be distributed to families the week before Christmas from an assistance center located at the former Dick's Sporting Goods store at the Stony Point mall in South Side.
The Salvation Army also distributes gifts at a separate location in Petersburg.
According to the Salvation Army, all of the programs operate under the umbrella of the Richmond Christmas Mother, which was launched 85 years ago during the Great Depression.
Details: Salvation Army, (804) 225-7470 or www.VirginiaSalvationArmy.org.
Volunteer groups also operate independent Christmas Mother programs in Chester- field County/Colonial Heights and in Henrico County.
For information on the Chesterfield County-Colonial Heights Christmas Mother program, visit www.cchchristmasmother.com or email cchchristmasmother@gmail.com.
Details on the Henrico Christmas Mother program: (804) 225-7470 or www.henricochristmasmother.org.
The Salvation Army and the two independent Christmas Mother groups have completed taking applications for this holiday season.
Another well-known gift- assistance program is the Marines' Toys for Tots. According to the website, two churches in the Richmond area will collect and distribute toys — Heart of God Ministries in Mechanicsville and Mountain Movers Ministry in Chesterfield.
Pamela Massenburg of Highland Springs, an area coordinator for Toys for Tots, said she relies on Heart of God to store the toys before distribution in December. Details: (804) 237-3737 or IOHMall@ yahoo.com
Mountain Movers' leaders Dr. Wade S. and Sherrie Runge also serve as coordinators for the Toys for Tots operation in the area. Details: (804) 379-0093 or www.m3church.org or wsrunge@liberty.edu.
One of the newer organizations seeking gifts for distribu- tion is "Be a Santa to a Senior," which operates similarly to Angel Tree, but sets up its trees in nursing homes and assisted living centers.
Sponsored by Home Instead Senior Care, visitors can take an ornament that includes a gift request from residents. Last year, the program provided about 300 gifts.
Participating locations include Brandermill Woods Assisted Living Center in Chesterfield County and the Cedarfield retirement community and the Home Instead office in Henrico County.