Ready for the holidays
Communities in Schools coordinators bring together volunteer efforts to assist children, families during holiday season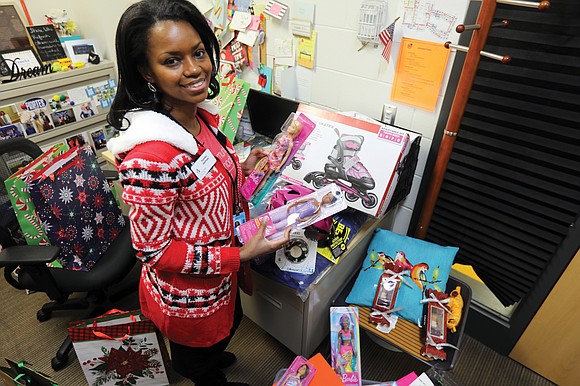 Community in Schools is making Christmas merry for students and their families in schools in Richmond's East End and Eastern Henrico County.
The CIS program is providing gifts, gift cards, clothing and other resources to families of students at Richmond's Martin Luther King Jr. Middle School and Henrico's Fairfield Middle School.
Help also will come in the way of support for academic assistance, counseling and health care.
CIS site coordinators Tameka DePriest, a 10-year veteran at MLK, and Jennifer Collins, a 15-year veteran who just completed her first year at Fairfield, expressed appreciation for the donations from individuals, corporations, nonprofits, churches, city and county foundations and programs, as well as volunteers who sponsored children.
Forty students from the Richmond school were scheduled to receive coats, hats, gloves and other presents, Ms. DePriest said, while about 25 Henrico students and their families were to receive gift cards, according to Ms. Collins.
"However, this is not to say the number of students in need will not rise by the time RPS' Christmas break begins on Friday, Dec. 17," Ms. DePriest said.
A lot of families have been hit hard during the last 20 months of the COVID-19 pandemic, with some parents either unemployed or working reduced hours. She said some families have experienced the loss of loved ones as well as other unexpected stressful events, such as house fires. All of these events affect children and families as they try to make it through the holidays.
"Parents say they are appreciative for help and support. They really want to do all that they can for their children during the holiday season," Ms. DePriest said.
Support from CIS ensures that when students return to school in the new year with new gear, they are comfortable and not concerned about being bullied by their peers, Ms. DePriest said.
Before joining the Fairfield Middle School staff, Ms. Collins spent 15-years as CIS coordinator in RPS followed by a stint at L. Douglas Wilder Middle School in Henrico. She said in addition to receiving gift cards, Fairfield students and their families were assisted in signing up for the Salvation Army's
Angel Tree and the Henrico Christmas Mother programs for other gifts. She said many families are unaware of those holiday resources.
As with Richmond families, many Henrico families also have experienced traumatic events during the past months, Ms. Collins said, including the death of the family's bread- winner. All of these events, and more, affect how students perform in school and handle relationships with their peers, teachers and other adults at school.
"Many Fairfield parents need other assistance – grief counseling and economic support, referrals to other agencies – for the entire family," Ms. Collins said. "We walk Fairfield parents through the process of finding resources they may need year round."
Back at MLK, parents of the students selected for participation in the holiday program also engage in activities to help others. For example, one year, parents attending a holiday gift party used construction paper and colorful markers to create holiday greeting cards that were given to nursing home residents.
Ms. DePriest and Ms. Collins said they believe it is important for people to give back in any way they can.
"It is not about how much you can do to support children and families at this time of the year, but what you can do to support families all year," Ms. DePriest says. "When you become a part of what CIS is doing for students, it helps to make the whole effort is a success."