Blanche Moore named Henrico County Christmas Mother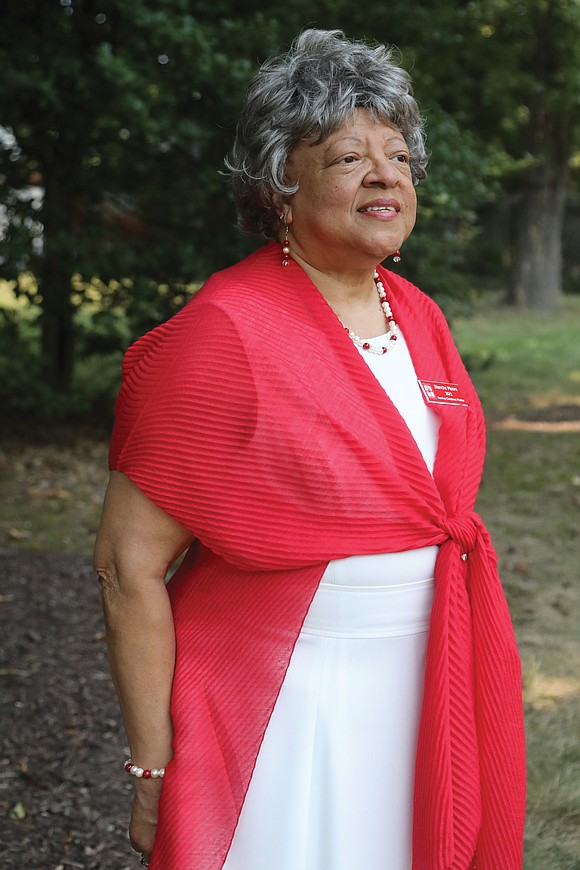 Blanche Moore has been selected to a very exciting and much needed Henrico County volunteer position – the 2021 Henrico County Christmas Mother.
She is the fourth African-American to be named to the honorary post by the Henrico Christmas Mother Council since the program's start in 1942.
Mrs. Moore, who began volunteering with the nonprofit in 2015 after her retirement from Henrico County Public Schools, was surprised when the council asked her to be this season's Christmas Mother.
"It was a total shock," Mrs. Moore said. "I was surprised, yet elated, that I was the one they chose."
Mrs. Moore has lived in the county with her husband, Dr. Roland Moore, for 48 years and is familiar with the program that provides toys, books, new clothing, food and other items to families in need, senior citizens and disabled adults during the holiday.
She said Fairfield District Supervisor Frank J. Thornton was instrumental in getting her involved with the council, whose members work year-round to make sure Christmas is happy for those the program serves.
"He actually contacted me as the group was trying to fill a volunteer slot," said Mrs. Moore, a graduate of Virginia Union University. "Mr. Thornton gave them my name. In turn, they called me to become an annual member of the Christmas Mother Council."
In the six years since, Mrs. Moore has held several leadership positions with the managing council, including recording secretary, historian and co-chair of the books committee.
The council members are involved in fundraising, attending promotional events, visiting schools to raise awareness of the Christmas Mother program and to generate support from students, families and staff to ensure each participating family enjoys a holiday shopping experience during the first two weeks of December marked by dignity, cheerfulness and excitement.
Families and individuals must live in Henrico to receive help through the program. They also must apply in person during October and provide documents showing income and other qualifications.
Donations from the community are used to purchase the toys, books and gifts that are set up in the Christmas Mother warehouse on Dabbs House Road, across from the Henrico County Eastern Government Center, where families come and select presents for their children.
Last year, during the height of the COVID-19 pandemic, the Henrico Christmas Mother program served 1,582 county families, 2,662 children, and 752 seniors and disabled adults.
This year's goal is 1,700 families, Mrs. Moore said.
"I have written a lot of solicitation letters and attended a lot of meetings," Mrs. Moore said of the preparation that leads up to December.
In August, her work steps up even more as Christmas Mother when she will begin speaking at schools, churches, social, fraternal and community organizations to engage them in donating.
Beginning in September, Mrs. Moore will participate in various parades in Sandston, Varina and finally in Richmond's televised Holiday Parade as Henrico's Christmas Mother 2021.
The program was founded 79 years ago by Mittie McGraw Nelson, a Varina teacher, who saw it as a way of neighbors helping neighbors during World War II. She involved her students in the effort by asking them to donate canned goods for the food baskets that were distributed to those in need, along with clothing and toys.
Henrico's first African-American Christmas Mother was Charlotte Melton in 2000, followed by Ethel Jackson in 2005 and Dorothy M. Tatem in 2010.
Mrs. Moore is happy to follow in their footsteps. She retired from the Henrico school system's central office as an account clerk with the Title I program, helping to manage close to $8 million in grant money for the school system.
She and her husband have two children, Tamra Moore, 41, of Richmond and Chris Moore, 36, of Atlanta, and four grandchildren who range in age from 6 to 21.
She has volunteered for more than 40 years with a variety of civic and church organizations, including Senior Connections, the Capital Area Agency on Aging, and First Shiloh Baptist Church of Mechanicsville, where she worked with the youth and finance ministries. Mrs. Moore attends St. Peter Baptist Church in Glen Allen, where she helps with the missions and evangelism ministry and the homeless.
Mrs. Moore is available to speak to community organizations by contacting her at bmoore@henricochristmasmother.org
Donations to the Henrico Christmas Mother program may be made online at henricochristmasmother.org or by mailing a check to Henrico Christmas Mother, P.O. Box 70338, Henrico, Va. 23255-0338.
Families and individuals in Henrico County requesting help should visit www.henricochristmasmother.org/applyforhelp.html.