No need to be alone with area Thanksgiving dinner programs
Ronald E. Carrington and George Copeland Jr. | 11/27/2019, 6 p.m.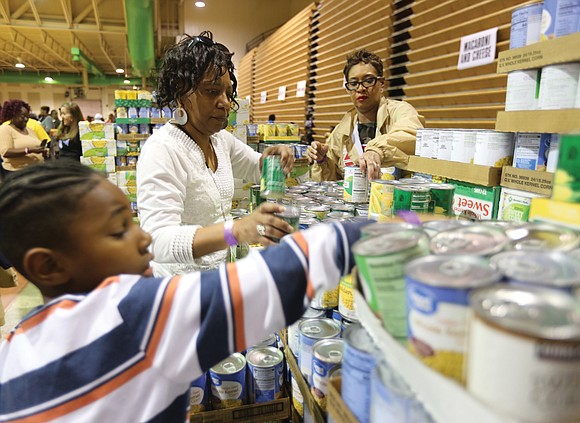 The holiday season has begun. Thanksgiving, a time for family, friends and fellowship, is upon us. But it can also be a stressful and lonely time for many.
Several Richmond area organizations are helping by providing free Thanksgiving dinners to area residents. Many organizations also are welcoming additional volunteers — cooks, turkey carvers, servers and greeters, table designers and general helpers — to assist at various locations.
Vicki Neilson, founder and executive director of The Giving Heart, one of the largest Thanksgiving programs in the area, is asking for donations of food or dollars for the annual event that feeds more than 2,400 people on Thanksgiving Day at the Greater Richmond Convention Center.
This year, The Giving Heart's free Community Thanksgiving Feast will be held 11 a.m. to 2:30 p.m. Thursday, Nov. 28, in the Exhibition Hall at the convention center, 403 N. 3rd St. in Downtown. Dinner will include turkey, mashed potatoes, gravy, cranberry sauce, vegetables, rolls and dessert, along with a selection of hot and cold beverages. New this year is a limited vegan/vegetarian selection.
Guests can expect live entertainment during dinner, including spoken word, praise dancers, an acoustic bass and guitar duo, a vocalist and an old-time banjo player.
Volunteers ages 14 to 24 will be serving the meals, acting as table hosts and as well as bus ambassadors.

Through a partnership with GRTC, free bus rides will be provided to people heading to the event until 1 p.m and leaving until 6 p.m. GRTC bus ambassadors will be on board to provide passes to riders, with passes for the return trip available at the convention center.
Additionally, free Care Van service is available by calling (804) 782-2273.
Free parking is available in the garage at 3rd and Marshall streets and the parking lot at 5th and Broad streets.
In addition to Thanksgiving dinner, guests can also get free flu shots and health care information and haircuts and can pick up personal care items, toiletries and clothing.
"Donors are requested to bring toiletries, blankets, sleeping bags, diapers, jackets, coats, sweaters, hats, gloves, scarves as well as non-perishable food," Ms. Neilson told the Free Press. "We are also asking any area bakeries or restaurants to donate desserts and baked goods."
Any groups interested in having Thanksgiving dinner may call and reserve space.
Details: www.thegivingheart.org.
Group reservations: Ms. Neilson, (804) 749-4726 or vneilson@thegivingheart.org.
Other holiday community food and fellowship programs include:
Feed the Need Community Luncheon
Us Giving Richmond Connections and Black Pride RVA are hosting a free community meal noon to 3 p.m. Thanksgiving Day at Diversity Thrift, 1407 Sherwood Ave. People interested in volunteering may email volunteers@blackpriderva.com.
Details: (804) 293- 0797 or BlackPrideRVA@gmail.com
6th Annual Branch's Community Thanksgiving
Branch's Baptist Church, 3400 Broad Rock Blvd., is serving Thanksgiving dinner to guests from noon to 6 p.m. Thursday, Nov. 28, as well as providing meals for pickup and delivery to pre-selected neighborhoods. Volunteers are needed on Wednes- day, Nov. 27, as well as Thursday, Nov. 28, to help prepare food, pack to-go meals, deliver food and assist with cleanup. No registration is necessary.
Details: www.branchs.org or (804) 276-5000.
Holiday Helping Hands Giving Program
Atlantic Outreach Group, a Richmond-based nonprofit, is collecting items for its annual Holiday Helping Hands Giving Program. People in a giving mood, or with new and unopened items that they don't need, can donate those items to the program, which runs through Dec. 9.
Details: (804) 308-2648.