Thanksgiving food programs available to help individuals, families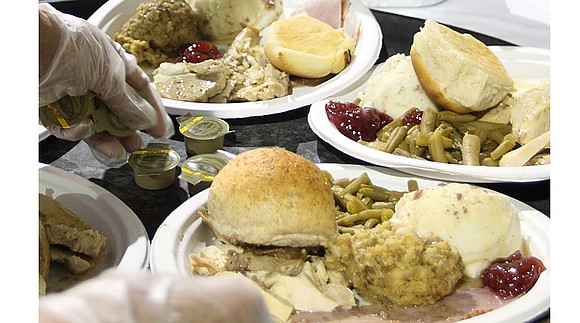 Richmond area organizations are spreading the bounty of Thanksgiving food with individuals and families in need during this season.
The Giving Heart, a nonprofit that hosts the annual Community Thanksgiving Feast at the Greater Richmond Convention Center, is offering carry-out meals and curbside pickup again this year because of the pandemic.
To-go meals will be given to visitors 11 a.m. to 2 p.m. Thursday, Nov. 25, at the convention center entrance at 5th and Marshall streets. Meals are first come, first served, with a limit of two meals per person.
Meals for curbside pickup will be available at specially marked places outside the convention center at specific times – 11:30 a.m., 12:15 p.m. and 1 p.m. The curbside distribution is limited to six meals per person through The Giving Heart's signup on its website, www.thegivingheart.org.
Each order will feature a Thanksgiving dinner, dessert and beverage. Vegan meals also are available. All meals are served in a microwavable container for reheating.
Additionally, a limited number of meals can be delivered to senior citizen complexes. Donated clothes, shoes, blankets and other necessities also will be available for people, and flu shots will be available.
Details: www.thegivingheart.org or (804) 749-4726.
Following are other holiday food and fellowship programs:
The Saint Paul's Baptist Church Thanksgiving Food Distribution
Roughly 40 groups, businesses and other churches are joining with The Saint Paul's Baptist Church to distribute food from 4 to 6 p.m. Friday, Nov. 19, at the church's South Campus at 700 E. Belt Blvd. in South Side, and from 1 to 3 p.m. Saturday, Nov. 20, at the church's North Campus at 4247 Creighton Road in Henrico County.
The distribution will be on a first come, first served basis, with one box per address or household. Residents much have a valid state-issued photo I.D.
HOPE Pharmacy and The Saint Paul's Baptist Church Caring Hearts Medical Ministry also will be providing COVID-19 vaccine and booster shots, while information will be available about rental relief assistance from Housing Opportunities Made Equal.
Details: Email Outreach@myspbc.org or call (804) 643-4000.
Thanksgiving Community Luncheon
Black Pride RVA, UGRC, Minority Vets and Diversity Richmond are hosting a free hot Thanksgiving meal from 11 a.m. to 3 p.m. Thursday, Nov. 25, in the Diversity Richmond event hall, 1407 Sherwood Ave. in North Side.
People may sit and enjoy dining in or pick up food to carry home.
The federal Centers for Disease Control and Prevention's COVID-19 guidelines will be strictly adhered to, with masks required when not eating or drinking.
Details: diversityrichmond.org or (804) 622-4646.
Thanksgiving baskets
City Councilwoman Ellen F. Robertson, 6th District, is leading an effort to distribute
Thanksgiving baskets to families from 3 to 6 p.m. Tuesday Nov. 23, at the Annie Giles Com- munity Resource Center, 1400 Oliver Hill Way in the East End.
Currently, about 400 baskets are available. However, more will be available if needed.
Details and to order a basket, contact Tavares Floyd at (804) 646-7964.
The Give Back: The 4th Annual Turkey Giveaway
For the fourth year running, the office of City Councilman Michael J. Jones, 9th District, is hosting The Give Back, a Thanksgiving turkey giveaway for 1,000 families and seniors.
The drive-thru giveaway will be held noon to 3 p.m. Saturday, Nov. 20, at River City Middle School, 6300 Hull Sreet Road.
Register to reserve a turkey at www.eventbrite.com/e/the-give-back-the-4th-annual-turkey-giveaway-tickets-192670250907.
Any turkeys not registered for will be given away on a first come, first served basis.
Details: Email Dominique.Thaxton@richmondgov.com or call (804) 646-2779.