Thanksgiving food programs help individuals, families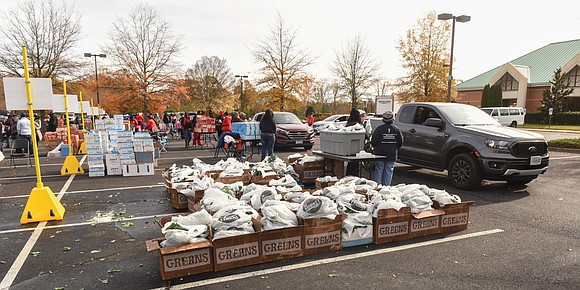 Richmond area organizations are spreading the bounty of Thanksgiving food with individuals and families in need during this season.
The Giving Heart, a nonprofit that hosts the annual Community Thanksgiving Feast at the Greater Richmond Convention Center, is offering carry-out meals and curbside pickup again this year because of the pandemic.
To-go meals will be given to visitors 11 a.m. to 2 p.m. Thursday, Nov. 25, at the convention center entrance at 5th and Marshall streets. Meals are first come, first served, with a limit of two meals per person.
Meals for curbside pickup will be available at specially marked places outside the convention center at specific times – 11:30 a.m., 12:15 p.m. and 1 p.m. The curbside distribution is limited to six meals per person through The Giving Heart's signup on its website, www.thegivingheart.org.
Each order will feature a Thanksgiving dinner, dessert and beverage. Vegan meals also are available. All meals are served in a microwavable container for reheating.
Additionally, a limited number of meals can be delivered to senior citizen complexes.
Donated clothes, shoes, blankets and other necessities also will be available for people, and flu shots will be available.
Details: www.thegivingheart.org or (804) 749-4726.
Following are other holiday food and fellowship programs:
Thanksgiving Community Luncheon
Black Pride RVA, UGRC, Minority Vets and Diversity Richmond are hosting a free hot Thanksgiving meal from 11 a.m. to 3 p.m. Thurs- day, Nov. 25, in the Diversity Richmond event hall, 1407 Sherwood Ave. in North Side.
People may sit and enjoy dining in or pick up food to carry home.
The federal Centers for Disease Control and Prevention's COVID-19 guidelines will be strictly adhered to, with masks required when not eating or drinking.
Details: diversityrichmond.org or (804) 622-4646.
Ms. Girlee's Kitchen Community Thanksgiving Dinner
Ms. Girlee's Kitchen and Community 50/50 Inc. is preparing 200 meals to feed the Richmond community noon to 3 p.m. Thursday, Nov. 25. Anyone in need of a meal can stop by Ms. Girlee's Kitchen, 4809 Parker St. in Fulton.
Details: www.msgirleeskitchen.com or (804) 562-3501.
Your Place Sports Bar & Grill
Your Place Sports Bar & Grill, 101 Wadsworth Drive off Midlothian Turnpike, is offering a free, dine-in traditional Thanksgiving meal beginning at 3 p.m. Thursday, Nov. 25, on a first-come, first-served basis.
First responders can get meals to go.
Details: www.yourplacerva.com or (804) 560-1830.