Architect for black history museum in D.C. wins another big commission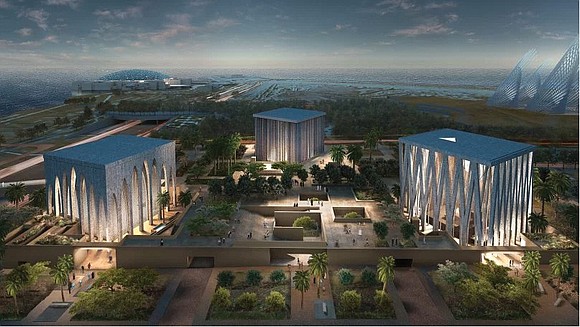 The Abrahamic Family House actually will be three distinct houses of worship — a Catholic church, a synagogue and a mosque. Rather than trying to meld the religions into one architectural concept, something critics of the entire initiative feared, Mr. Adjaye insisted on making them distinct yet interrelated, which is also a goal of the Human Fraternity project.
"I think that's why I won!" he said. "I was compelled by the opportunity to show the relationship between all three."
Mr. Adjaye said he is "very obsessed with geographic specificity" and is planning to use stone and materials from the region in the construction. The three buildings will all have the same footprint — the exact size and capacity are still to be determined — and structure and will be connected by a shared garden and plaza.
But they each will have a layout and design that follows the specific religious requirements and traditions of each faith. The apse of the church will have a sculpture with spokes of light that echo the great Baroque apse of St. Peter's Basilica in Rome representing the Holy Spirit.
"It's a great piece of art and a great inspiration," Mr. Adjaye said.
The synagogue is designed to mimic a sukkah, a tent or booth that Jews erect outside during the fall holiday of Sukkot. A sukkah is designed to recall the temporary dwellings the Israelites used during their 40 years in the wilderness following the Exodus from Egypt.
"I've designed the synagogue as sort of a permanent sukkah, to talk about the fragility of the religion, the fragility of life," he said.
The simple square floor plan of each of the buildings evokes the Kaaba, the cube-shaped shrine near the Grand Mosque in Mecca, Is- lam's holiest site in its holiest city. The UAE mosque itself will have soaring arches in each wall — traditional architectural features of mosques — but the arches are elongated to let in more light than most mosques.
"There's nothing about these three spaces that is repeating something," Mr. Adjaye said. "It's going to be learning about what all three are, but moving them into the 21st century."
These houses of worship also are designed to be used, not just admired. Thanks largely to an influx of migrant workers, the majority-Muslim UAE, with a population of about 8 million, is also home to hundreds of thousands of Chris- tians, as well as an active Jewish community that numbers about 3,000.
The timeline for the project is as ambitious as the concept. The Abrahamic Family House is scheduled to open in 2022.
"More broadly, the big challenge is not about building this building," Rabbi Sarna said. "It's not about building a house. It's building a home. There are so many huge and glitzy buildings around the Middle East. This is the start of a century-long task of building a home."