Personality: Robert Dunham
Spotlight on Richmond teacher and founder of 'Be the Change RVA'
10/11/2019, 6 a.m.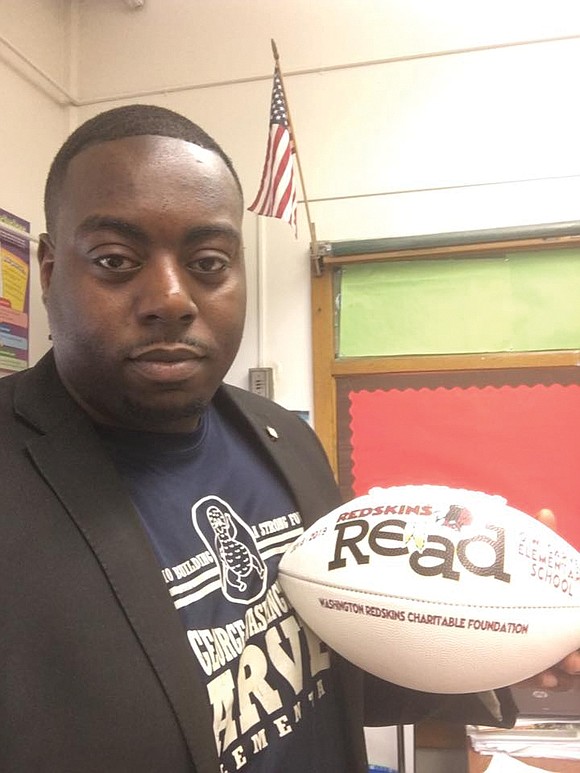 "Be the Change RVA's vision is to positively change the mindset and the world of children in various ways," Mr. Dunham says. "This includes mentoring, volunteering, tutoring and providing services people need — like a haircut or tutoring.
"Our purpose is to give children outlets to express themselves in positive and creative ways," he says. "For our members who are from diverse personal and professional backgrounds, this is an opportunity to impart wisdom, information and knowledge to help young men to develop into their best selves."
One of the many messages Mr. Dunham has received online and in the mail from across the country, stated, "If I could get another hundred black male teachers like you, we can turn a lot of things around."
His response to all of the well-wishers and people donating to his nonprofit is straightforward and honest.
"You saw my act of kindness, now you do me a favor. Take that energy from me. Go back to your community and do something kind for someone else. You'll never know the impact you can have on someone's life."
Meet this week's Personality and a true change agent for the community, Robert Dunham:
Date and place of birth: April 9, in Brooklyn, N.Y.
No. 1 volunteer position: Founder of "Be the Change RVA," a nonprofit that partners with local barbershops to give students free haircuts.
Current residence: Richmond's South Side.
Alma maters: ASA College, Brooklyn, N.Y., associate degree in criminal justice; Virginia Commonwealth University, bachelor's in interdisciplinary studies, with minors in education and criminal justice; and Liberty University, master's in special education.
Family: Wife, Shaquana Armstrong-Dunham; and children, Madison Lee,14; Karah,12; Rhyan Leah, 7; and Sasha Olivia, 5.
Why it's important for young boys to have a "fresh cut": For a young man, image is very important! The feeling you get when you walk out of the barbershop is like nothing else. You feel on top of the world and full of confidence. Most people will never understand how much confidence can help a young man inside and outside of the classroom.
Reaction from Carver students and their families to the haircuts: Most of the students were excited because I wasn't just providing a service. We connected on another level. I have always been close to all of my students and this small act of kindness seemed to bond us forever. The families have always been appreciative and were happy that some good news was coming out of Carver.
Did the response to the photo that went vital surprise you: Absolutely! First, I didn't even know my colleague Mrs. Randolph had taken the pictures. I was even more surprised that so many people were touched by this story. I received calls and emails from all over the country telling me how much this story had impacted them.
When did the producer from "The Ellen DeGeneres Show" contact you and how did you react: The producer from "Ellen" called me the day before the end of the school year. My assistant principal informed me that the producers wanted to talk to me. I thought they were trying to pull a prank on me until I picked up the phone and found out it was true. After the call, I ran around the school screaming, "I'm going to be on 'Ellen!' " It was truly a surreal moment.