Personality: Robert Dunham
Spotlight on Richmond teacher and founder of 'Be the Change RVA'
10/11/2019, 6 a.m.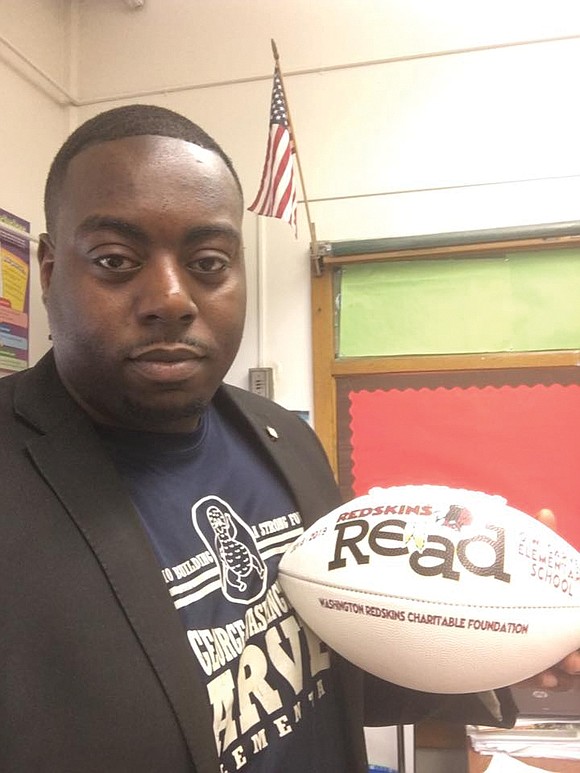 What was it like flying to Los Angeles for the first time and being on TV: I was scared to death. I hadn't flown on an airplane since I was 7, but my wife helped me get through it. I had never been on TV before, but I tried to play it cool until we were getting closer and closer to show time. I was freaking out a bit, but my wife looked at me and said, "Baby, take a deep breath. It's going to be all right."
Were you nervous when you met actor Dax Shepard, the guest host on the show: Yes, absolutely. Dax Shepard is so down to earth. He doesn't come off like some of the celebrities we see on television. During one of the breaks, he leaned in and asked me, "Hey, have you ever been on TV before?" and I responded, "NO!" He says, "Well, I can't tell 'cause you are doing phenomenal."
What are you doing with the $20,000 the show gave you: So the story about our car situation and our Disney trip was absolutely true. The first thing I want to do is book our Disney vacation for my kids. Secondly, I intend to donate $2,000 to the Embrace Carver Foundation and $2,000 to my church, The Sanctuary-RIC. The rest I intend to put into savings as my wife and I are trying to purchase our first home next year for our family.
My family is extremely important to me and I'm extremely happy to have done something that my kids can be proud of.
What is your vision for "Be the Change RVA": I see my organization becoming a beacon of hope for children growing up in impoverished conditions. This is only the beginning as I am currently working on trying to acquire a facility that will house an after-school program where we will provide tutoring, mentoring, food and, of course, haircuts!
The role and importance of "Be the Change RVA" in the community: There are many nonprofits that service children here in Richmond. My goal is not to compete with them, but to establish strong partnerships with them as we are all trying to accomplish the same goal — to positively impact the lives of children here in Richmond. We have all had that one person who comes along and sees something in you that you didn't even know is there. Someone did that for me and I just want to do that for someone else.
What is a teacher's greatest reward: A teacher's greatest reward is running into a student maybe five or 10 years down the line and find them doing something amazing with their life. That has always been my goal — to steer children toward a bright future.
What is a teacher's greatest challenge: I think a teacher's greatest challenge is debt. As teachers, we have to go to school for many years in order to obtain our license, but in doing so we acquire a great deal of student loan debt. I am currently $90,000 in debt and this is something that weighs every single day.