Stay at home
Gov. Northam issues order through June 10
George Copeland Jr. | 4/2/2020, 6 p.m.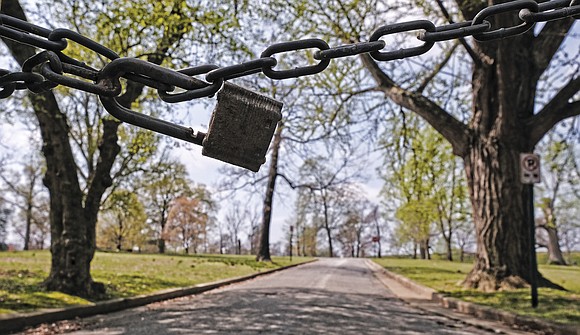 "It is clear more people need to hear this basic message — stay home," Gov. Northam said.
The concern is that the number of people needing hospitalization will soon overwhelm available health care bed space and intensive care units. The virus is insidious as it is easily transmitted by contact through respiratory droplets when an infected person coughs or sneezes. People who have the virus can spread it even if they show no symptoms of illness or have a mild case. Because there is no vaccine and no mass testing for the virus, health experts and government officials are encouraging people in increasingly stronger terms to keep their distance from one another.
A Liberty University student was diagnosed with COVID-19 days after the college reopened to students over the objections of Gov. Northam and in contrast to other public and private colleges and universities that sent students home to complete their coursework online.
President Trump, who has downplayed the severity of the threat as America outpaces every other country in terms of the number of infections, was in Norfolk last Saturday to see the launch of the 1,000-bed naval hospital ship Comfort to New York. The ship reached Manhattan on Monday afternoon and seeks to aid the city's hospitals with an influx of medical staff, hospital beds and space for patients who need care but aren't infected with the virus.
Even as the Comfort was welcomed with applause, problems with other national and local health responses remain. Despite receiving this week a third shipment of face shields, gowns and masks from the national stockpile, Virginia continues having problems getting critical medical equipment, the governor said, as the state is forced to bid against other states and their own health systems for it.
Various efforts are underway to fill the gaps in equipment, testing and potentially needed bed space. Multiple colleges and health systems are working to establish temporary medical spaces to lessen the load on hospitals, with Virginia Commonwealth University converting its Honors College dormitory, formerly Metropolitan Hospital, into a temporary hospital for non-COVID- 19 patients ahead of an expected surge in patients.
The governor also announced Wednesday that the Hampton Convention Center, an Exxon-Mobil facility in Northern Virginia and a site in Richmond, which was not disclosed, have been selected as temporary hospital sites by the U.S. Army Corps of Engineers to handle the anticipated surge. Additional sites west of Richmond also are being considered, he said.
Last Friday, Virginia's Title 32 request was approved, allowing federal funding for the state's National Guard units that are helping during the pandemic. A separate request for federal major disaster status is under consideration after being submitted Monday, officials said.
As for local elections scheduled for some jurisdictions in May and congressional primaries in June, Gov. Northam urged voters on Wednesday to request and cast absentee ballots by mail to avoid going to the polls.
But questions remain about how Virginia officials should proceed in the weeks to come.
Virginia Republicans, in a letter to Gov. Northam on Tuesday, called for vetoes of or amendments to an array of energy and business regulatory bills approved during the recent General Assembly session, calling them an unnecessary burden on economic stability. There also are calls for Gov. Northam to veto or delay enactment of bills to raise the state's minimum wage and other pro-worker legislation that are seen as raising business costs at a time when such increases would be unaffordable.
Richmond Mayor Levar M. Stoney affirmed the city's commitment to the stay-at-home order in a statement on Monday. He ordered the closure of the city's school playgrounds and recreation areas and restricted access to the James River for recreation. He kept parks open for individual biking, walking, running and hiking. He also continued to keep City Hall and other city buildings, including libraries, closed.
"We will get through this crisis, but for the sake of our neighbors, especially the most vulnerable among us, I beg Richmonders to take this seriously," Mayor Stoney said. "We are all safer and stronger at home."