Earl G. Graves Sr., founder of Black Enterprise magazine and champion for black economic empowerment, dies at 85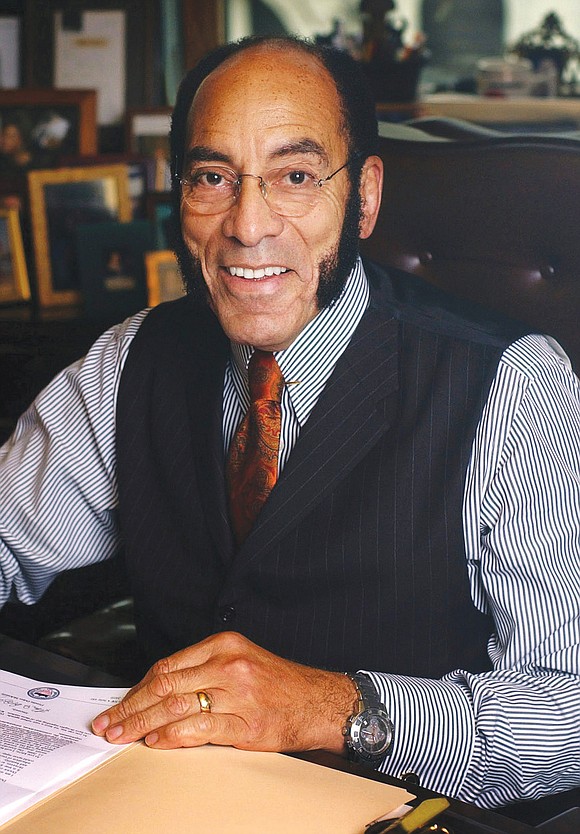 NEW YORK- Earl G. Graves Sr., who inspired generations of African- Americans to build wealth through stories published in Black Enterprise, the magazine he founded, died Monday, April 6, 2020, after a long battle with Alzheimer's disease. He was 85.
His son, Earl "Butch" Graves Jr., who is CEO of Black Enterprise, announced the death in a Twitter post.
"I loved and admired this giant of a man, and am blessed to be his namesake," his son wrote.
Mr. Graves launched his magazine, Black Enterprise, in 1970 as a resource for business and investing advice for African-Americans. He later said his aim was to educate, inspire and uplift his readers.
"My goal was to show them how to thrive professionally, economically and as proactive, empowered citizens," Mr. Graves wrote in his 1997 book "How To Succeed In Business Without Being White."
"The time was ripe for a magazine developed to encourage economic empowerment in the African-American community," he said.
Mr. Graves grew up in Brooklyn, N.Y., and earned an economics degree from Morgan State University. He served two years in the Army with the Green Berets. He later held jobs in law enforcement and real estate before working on Sen. Robert F. Kennedy's staff as an administrative assistant from 1965 to 1968.
After Sen. Kennedy's assassination in 1968, he joined the advisory board of the Small Business Administration, which led him to start an annual newsletter addressing key issues affecting African-American businesses and highlighting black spending power.
With a loan from the SBA, he transformed the newsletter into a magazine, which some thought was a risky proposition because there were only about 100,000 black-owned companies at the time. But the magazine, which he ran with his wife, Barbara, hit success in its first year and became profitable after 10 issues, with the loan being repaid early.
The magazine, which offers profiles of and advice for entrepreneurs and others, became known for its ranking of the top black-owned companies by revenue.
Mr. Graves turned the success of the magazine into a multi-tiered platform, with Earl G. Graves Ltd. as the parent company for the publishing division, marketing, management consulting, broadcast and event coordinating. The company also is co-owner of Black Enterprise Greenwich Street Corporate Growth Fund, a private equity fund that invests in and markets minority-owned or minority-managed businesses.
Mr. Graves also ran Pepsi-Cola of Washington, D.C., one of the nation's largest soft drink distributors owned by African-Americans. He sold his stake in the bottler to PepsiCo in 1998.
He also served on the boards of several major corporations, including American Airlines, Daimler Chrysler and Rohm & Hass and backed the presi- dential bids of Jesse Jackson and President Obama.
"As a little boy, I saw a magazine with something I'd never seen—a picture of a black man as the owner: Black Enterprise Founder & Publisher Earl G. Graves," tweeted the Rev. Cornell William Brooks, a professor at Harvard's Kennedy School and former president and CEO of the NAACP. "Graves has died — after inspiring MILLIONS to succeed in business & beyond. Inspired kids & so many others mourn his passing."
Mr. Graves was a member of Omega Psi Phi Fraternity, which he pledged in college, and Sigma Pi Phi Fraternity. He also served on the board of trustees at Howard University and was on the advisory board of the Ron Brown Scholar Program.
He received numerous awards during his lifetime, including the NAACP's Spingarn Medal in 1999 and the Silver Buffalo Award from the Boy Scouts of America in 1988. Morgan State University also named its busi- ness school for him in 1995. His alma mater also was one of the beneficiaries of his philanthropy. He donated more than $1 million to the university.
His wife died in 2012.
In addition to his son, Mr. Graves is survived by two other sons, Johnny Graves and Michael Graves, and eight grandchildren.