Bobby Mitchell, a trailblazer with the Washington NFL team, dies at 84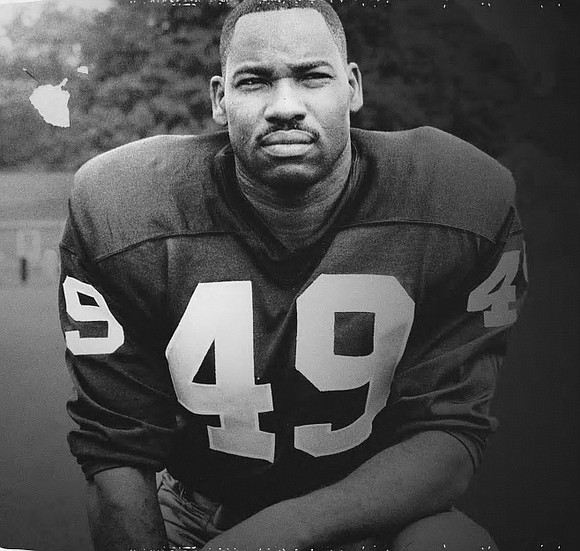 Former NFL great Robert Cornelius "Bobby" Mitchell, famous for immense talent and racial trailblazing, died Sunday, April 5, 2020.
Mr. Mitchell was 84 and living in the Washington, D.C., area with his wife, Gwen.
The Hot Springs, Ark., native was among the NFL's elite running backs with the Cleveland Browns before becoming one of the league's top receivers with the Washington franchise.
In a remarkable career from 1958 to 1968, Mr. Mitchell caught 521 passes for 7,954 yards and 65 touchdowns.
He also ran 513 times for 2,735 yards and another 18 touch- downs. Much of that ground production came in Cleveland, where he shared a backfield with the iconic Jim Brown.
In 1983, Mr. Mitchell was named to the Pro Football Hall of Fame. He earned three Super Bowl rings while serving in the Washington team's administration.
A seventh round draft choice in 1958 out of the University of Illinois, Mr. Mitchell starred for the Browns before an historic trade between Cleveland and Washington.
With the No. 1 overall draft pick in 1962, Washington chose Heisman Trophy-winning running back Ernie Davis, an African-American out of Syracuse University.
At the time, Washington was the only NFL team that had failed to integrate through the 1961 season. The Washington team's bigoted owner, George Preston Marshall, had said, "We'll sign a black player when the Harlem Globetrotters sign a white player."
Still political pressure boiled over as Washington was moving out of privately owned Griffith Stadium into tax-funded District of Columbia Stadium, later Robert F. Kennedy Stadium.
Wary that the highly decorated Davis might present contractual problems, Marshall traded his top pick to Cleveland for Mitchell and another black player, Leroy Jackson.
Unbeknownst to anyone, Davis soon was diagnosed with leukemia and died before ever playing an NFL game.
Also joining Washington in 1962 via trade were John Nisby and Ron Hatcher.
Mr. Mitchell was clearly the headliner. In his first game wearing burgundy and gold, he ran a kickoff back for a 92-yard touchdown against the Dallas Cowboys. It was during the 1962 season that Mr. Mitchell moved from being primarily a running back to flanker, where he earned All- Pro honors working with quarterbacks Norm Snead and then Sonny Jurgensen.
In Mr. Mitchell's first season as a wide receiver, he snared 72 passes for 1,394 yards and 11 touchdowns. He only ran one time from scrimmage.
By 1964, Mr. Mitchell and Charley Taylor, who was drafted out of Arizona State University, gave Washington one of the best sets of wide receivers in NFL history.
Following retirement, Mr. Mitchell served as a Washington scout and later as assistant general manager before retiring in 2003 after 41 years with the organization. He aspired to become the NFL's first black general manager.
That did not happen. Mr. Mitchell was said to be "deeply saddened" when he was passed over for the GM job in 1998 in favor of Charley Casserly.
Mr. Mitchell also was disappointed in 1998 when new Coach Steve Spurrier issued the No. 49 jersey, Mr. Mitchell's number, to newcomer Leonard Stephens, an unheralded tight end who arrived to play for Washington in a trade from the Detroit Lions. No one had worn No. 49 in D.C. since Mr. Mitchell's retirement in 1968.
A brilliant all-around athlete, Mr. Mitchell early on was of- fered a baseball contract by the St. Louis Cardinals. Instead, he chose to play football and run track at the University of Illinois, where he set a world record of 7.7 seconds for the 60-meter hurdles. He passed up a bid to try out for the United States' team in the 1960 Olympics to sign with Cleveland owner and Coach Paul Brown.
Mr. Mitchell volunteered with many civic groups around Washington and in 1980 began directing the Bobby Mitchell Hall of Fame Classic golf tournament to raise funds for leukemia and lymphoma research.