The life and legacy of Jim Brown, all-time NFL great and social activist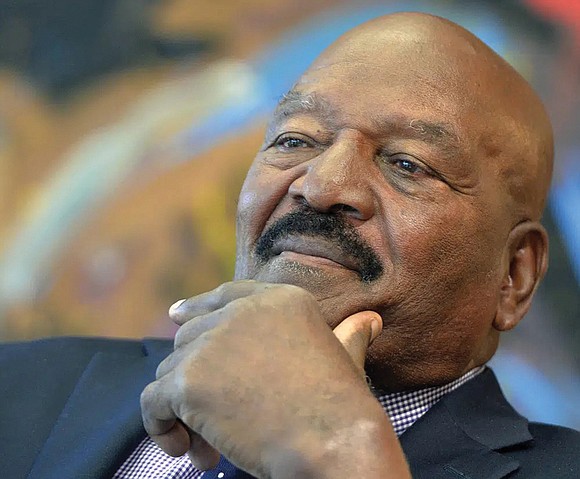 If ever the term "larger than life" fit one individual, it would be Jim Brown, the athlete, actor and activist.
Arguably the greatest football player in history, Mr. Brown died Thursday, May 18, 2023, in Los Angeles. The College and NFL Hall of Fame fullback was 87.
The cause of Mr. Brown's death was determined to be congestive heart failure related to pneumonia. There was no autopsy.
News of the football legend's death brought tributes from the NFL and other sports standouts.
NFL star Paul Hornung: "If I could only pick one player as my teammate, I'd take Jim against anyone."
NFL star Barry Sanders: "You can't underestimate the impact he had on the NFL."
NFL star Emmitt Smith: "He was and is a true legend in sports and the community, using his platform to help others."
NFL Commissioner Roger Goodell: "Jim Brown was a gifted athlete – among the best to ever step on a football field. But he was also a cultural figure who helped promote change."
NBA star LeBron James: "We lost a hero today. Rest in paradise to the legend. We all stand on your shoulders."
President Barack Obama: "Jim Brown spoke out on civil rights and pushed others to do the same."
In the beginning: Jim Brown was born at St. Simon's Island, Ga., but his family moved to Manhasset, N.Y. when he was 8. He was mostly raised by his grandmother.
At Manhasset High, he won 13 varsity letters and, as a basketball playing senior, averaged 38 points per game, setting a Long Island record.
Syracuse University: In just 24 games over three seasons (1954-1956) for the Orange, Mr. Brown, wearing No. 44, rushed for 2,091 yards and 21 touchdowns. He also played defensive back and was the placekicker.
In addition, he was an All-American lacrosse player, was the second leading scorer on the basketball team, and finished fifth in the NCAA decathlon. Brown finished fifth in the Heisman voting, behind four white players, including Notre Dame's Hornung who won the award. The first Black Heisman was another Syracuse running back, Ernie Davis, in 1961. Like Brown, Davis wore No. 44.
Cleveland: As the Browns' first draft pick (fifth overall), Mr. Brown won NFL Rookie of Year in 1957 and would lead the league in rushing every year except 1962.
He was a three-time MVP, helping the Browns to the NFL title in 1964 and runner-up finishes in 1957 and 1965.
It was said he "could give you a headache running over you, or a head cold blowing past you."
At 6-foot-2 and 232 pounds, he was as big as most linemen of his era and faster than the defensive backs.
Between 1957 and 1965, covering just 118 games, he rushed for 12,312 yards and 80 touchdowns, averaging 5.2 yards per carry. His best season was 1963 when he ran for 1,863 yards and a 6.4 per-carry norm.
His totals could have been much higher. Mr. Brown played in 12- and 14-game seasons. Now teams play 17 games.
Also, the hash marks were 10-feet, 9-inches wider then, meaning it was hard to run a sweep to the short side of the field. Defenders knew what was coming.
Silver screen: Mr. Brown retired from the NFL at age 30 to pursue acting. The first of his more than 30 movies was "Rio Conchos" in 1957 in which he played a military officer. Playing himself, his last movie role was "Black Godfather" in 2019.
Mr. Brown starred in the 1967 "Dirty Dozen" action thriller and, in 1969, raised eyebrows across the cinematic world with the first biracial on-screen romance, with co-star Raquel Welch.
Activism: During the 1950s and 1960s, high-profile Black athletes were fearful of the ramifications of being political or supporting civil rights causes. Not Mr. Brown, who was one of only four Black players on his rookie 1957 roster.
Always outspoken, in 1966 he helped form Negro Industrial Economics Union (later Black Economics) to promote business opportunities for Black people.
Mr. Brown was a leader in the Cleveland Summit in 1967 that supported boxer Muhammad Ali's decision not to fight in Vietnam. Others at the Summit were basketball stars Bill Russell and Kareem Abdul-Jabbar.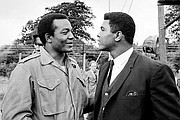 In 1988, he formed the Amer-I-Can Foundation to divert gang violence, and he later served as a peacemaker among rival gangs the Bloods and the Crips during the Watts Truce or peace agreement in Los Angeles. This truce was a significant factor in the decline of street violence in LosAngeles after the 1990s.
Summing it up: Mr. Brown's No. 44 was retired at Syracuse and his No. 32 was retired by Cleveland.
He was named to the NFL Hall of Fame in 1971 and to the College Hall of Fame in 1995.
Mr. Brown was married twice. He had three children with his first wife, Sue Jones Brown, and two children with his second wife, Monique, who was at his bedside at the time of his death.
On Jan. 1, 2013, he was named the Greatest College Football Player of all time by ESPN. He's on the NFL's 50th, 75th and 100th Anniversary All-Time teams.