Magic moment
U.S. Sen. Kamala Harris of California, daughter of Jamaican and Indian immigrants, is first Black woman chosen as running mate by a major party's presidential candidate
For the first time, a Black woman will be on a major party's presidential ticket.
On Tuesday, Democrat Joe Biden made history as he tapped California Sen. Kamala D. Harris to be his running mate in his bid to oust incumbent Republican President Trump from office.
The new team made their first campaign appearance Wednesday in Wilmington, Del., and Mr. Biden, former vice president to President Obama, described the senator as "experienced" and "a proven fighter" who "knows how to govern, knows how to make the hard calls" and will be "ready to do the job on day one."
In her maiden campaign speech, Sen. Harris, 55, the California-born daughter of Jamaican and Indian parents, declared, "America is crying out for leadership," noting that the Trump administration's mismanagement of the coronavirus pandemic has left an American dying every 80 seconds, 16 million people out of work and millions of children unable to return to school, and offered voters a clear choice on Election Day, Nov. 3.
"The case against Donald Trump and Mike Pence is open and shut," Sen. Harris said. "Just look where they've gotten us."
Mr. Biden, best known for his eight years as No. 2 to President Obama, was well aware of the potential pitfalls of being a 77-year-old white male standard-bearer of a party increasingly comprised of women, people of color and young voters. He made clear even before he had clinched the Democratic nomination that his running mate would be a woman.
His initial list of possible contenders was a sprawling parade of governors, senators, congresswomen, mayors and other Democratic stalwarts. They were young and old, Black, Latino, white, Asian, straight and gay. Some, including Sen. Harris, had competed against Mr. Biden for the Democratic nomination.
He chose the former California attorney general and former San Francisco district attorney after considering a short list that also included former national security adviser Susan Rice, Michigan Gov. Gretchen Whitmer, U.S. Rep. Karen Bass of California and two of Sen. Harris' Senate colleagues, Tammy Duckworth of Illinois and Elizabeth Warren of Massachusetts.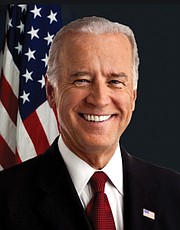 For Mr. Biden, the selection of Sen. Harris brings on board someone who has the potential to energize Black voters, a major chunk of the Democratic Party's base that did not turn out for Hillary Clinton in battleground states in 2016 at the level expected by the party. Even better, Sen. Harris comes from a state that is virtually certain to replace her with another Democrat.
Although Sen. Harris failed to galvanize the party faithful during the Democratic nomination process that Mr. Biden eventually won, her selection as his vice presidential running mate has received a mostly enthusiastic reception from the party, including Sen. Bernie Sanders of Vermont, although some associated with him grumbled that Sen. Harris is not progressive enough. A group of Republicans who see President Trump as a threat to democracy also cheered the selection.
Social media lit up with congratulations coast to coast and included enthusiastic shout-outs from Howard University from which Sen. Harris graduated in 1986, as well as from a constellation of nine African-American sororities and fraternities. Sen. Harris is a member of Alpha Kappa Alpha Sorority.
"This is an extraordinary moment in the history of America and Howard University," Dr. Wayne A.I. Frederick, president of Howard University, tweeted. "Sen. Kamala Harris' selection as the Democratic vice president candidate represents a milestone opportunity for our democracy to acknowledge the leadership Black women have always exhibited."
Former President Obama also hailed the selection on Twitter: "I've known Sen. Harris for a long time. She is more than prepared to do the job. She spent her career defending our Constitution and fighting for folks who need a fair shake. This is a good day for our country. Now let's go win this thing."
U.S. Sen. Tim Kaine of Virginia, who was Mrs. Clinton's running mate four years ago and debated Vice President Mike Pence before the 2016 election, said Sen. Harris is fully equipped to take on the vice president during their Oct. 7 debate.
"Sen. Harris will be sharp and make plain what we have been experiencing with the economic and pandemic devastation with the Trump administration," Sen. Kaine said in an interview with MSNBC. "She will do very, very well in the job."
Democratic state Sen. Jennifer L. McClellan of Richmond joined in the applause. "The Biden-Harris team is ready to lead on Day 1 and fix the mess that Donald Trump and his cronies have gotten us in," Sen. McClellan said in a statement. "Now, the charge and call to action is upon us to do all that we can to ensure progress is made on the federal level. I hope that you will join me in supporting and voting for the Biden-Harris ticket, and all other Democratic candidates on the ballot this November."
Still, experts such as the University of Virginia's Larry Sabato who follow presidential politics, say that the vice presidential choice rarely, if ever, determines the outcome of the presidential race.
From the start, some Biden advisers saw Sen. Harris as a logical choice. She was among the party's most popular figures, a deft debater and a fundraising juggernaut. A graduate of the University of California, Hastings College of the Law, she had been thoroughly vetted during her statewide campaigns for at- torney general and senator in California, and Mr. Biden's team expected there would be few surprises if she was the pick.
Indeed, Sen. Harris' potential downsides were well known to Mr. Biden's advisers. Her record as a prosecutor in California was already viewed skeptically by some younger Democrats during the primary and would face even more scrutiny against the backdrop of a national debate over inequality in the criminal justice system.
There were also nagging questions about Sen. Harris' most high-profile moment of the primary campaign — a harsh and deeply personal broadside against Mr. Biden over his position on school busing in the 1970s.
Though Mr. Biden would later brush the moment aside as campaign tactics, the attack was said to have stunned the former vice president, who had considered his relationship with Sen. Harris strong. It also raised concern among a small cadre of Mr. Biden's advisers that Sen.Harris would be eyeing the Oval Office herself from the start, a particular worry given that Mr. Biden, the oldest person ever to run on a major party ticket, has not firmly committed to serving two terms if elected in November.
And so, as spring turned to summer, a string of other Black women would take a turn in the spotlight as Mr. Biden weighed his options. Atlanta Mayor Keisha Lance Bottoms and U.S. Val Demings of Florida impressed Mr. Biden's team with their leadership during the police brutality protests.
Some House Democrats — including U.S. Rep. James Clyburn of South Carolina, a close Biden confidant — advocated for Rep. Bass, who chairs the Congressional Black Caucus. Mr. Biden also took a strong interest in Susan Rice, with whom he worked closely when she oversaw the national security apparatus for President Obama.
Mr. Biden's selection team canvassed a vast array of Democrats to ask for their views on the candidates' temperament and families, then grilled the candidates on much of the same.
Mr. Biden, too, regularly discussed his potential pick with his sprawling network of friends and advisers.
When U.S. Sen. Chris Dodd of Connecticut, a longtime Biden friend who served alongside him in the Senate, publicly indicated he was not enthusiastic, some of Sen. Harris' allies mobilized to defend her, including California Lt. Gov. Eleni Kounalakis. She organized a call with Mr. Biden's vetting team about two weeks ago to assuage any doubts about whether the senator was the right choice for the ticket.
On the 45-minute call, Ms. Kounalakis and other statewide officials, labor and business leaders took turns sharing their personal histories with Sen. Harris and their impressions of her as a leader.
"Speaking out as strongly as we did, collectively, helped them understand how supported she is and why," Ms. Kounalakis said after Sen. Harris' selection was announced.
Despite being stuck in Delaware due to the pandemic, Mr. Biden eventually met with 11 women in the final nine days before he made his pick — a mixture of in-person meetings and video teleconferences.
He called those not selected before announcing Sen. Harris, but left open the opportunity to ask some to serve in other positions in his administration if elected.