Magic moment
U.S. Sen. Kamala Harris of California, daughter of Jamaican and Indian immigrants, is first Black woman chosen as running mate by a major party's presidential candidate
For the first time, a Black woman will be on a major party's presidential ticket.
On Tuesday, Democrat Joe Biden made history as he tapped California Sen. Kamala D. Harris to be his running mate in his bid to oust incumbent Republican President Trump from office.
The new team made their first campaign appearance Wednesday in Wilmington, Del., and Mr. Biden, former vice president to President Obama, described the senator as "experienced" and "a proven fighter" who "knows how to govern, knows how to make the hard calls" and will be "ready to do the job on day one."
In her maiden campaign speech, Sen. Harris, 55, the California-born daughter of Jamaican and Indian parents, declared, "America is crying out for leadership," noting that the Trump administration's mismanagement of the coronavirus pandemic has left an American dying every 80 seconds, 16 million people out of work and millions of children unable to return to school, and offered voters a clear choice on Election Day, Nov. 3.
"The case against Donald Trump and Mike Pence is open and shut," Sen. Harris said. "Just look where they've gotten us."
Mr. Biden, best known for his eight years as No. 2 to President Obama, was well aware of the potential pitfalls of being a 77-year-old white male standard-bearer of a party increasingly comprised of women, people of color and young voters. He made clear even before he had clinched the Democratic nomination that his running mate would be a woman.
His initial list of possible contenders was a sprawling parade of governors, senators, congresswomen, mayors and other Democratic stalwarts. They were young and old, Black, Latino, white, Asian, straight and gay. Some, including Sen. Harris, had competed against Mr. Biden for the Democratic nomination.
He chose the former California attorney general and former San Francisco district attorney after considering a short list that also included former national security adviser Susan Rice, Michigan Gov. Gretchen Whitmer, U.S. Rep. Karen Bass of California and two of Sen. Harris' Senate colleagues, Tammy Duckworth of Illinois and Elizabeth Warren of Massachusetts.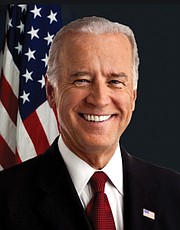 For Mr. Biden, the selection of Sen. Harris brings on board someone who has the potential to energize Black voters, a major chunk of the Democratic Party's base that did not turn out for Hillary Clinton in battleground states in 2016 at the level expected by the party. Even better, Sen. Harris comes from a state that is virtually certain to replace her with another Democrat.
Although Sen. Harris failed to galvanize the party faithful during the Democratic nomination process that Mr. Biden eventually won, her selection as his vice presidential running mate has received a mostly enthusiastic reception from the party, including Sen. Bernie Sanders of Vermont, although some associated with him grumbled that Sen. Harris is not progressive enough. A group of Republicans who see President Trump as a threat to democracy also cheered the selection.
Social media lit up with congratulations coast to coast and included enthusiastic shout-outs from Howard University from which Sen. Harris graduated in 1986, as well as from a constellation of nine African-American sororities and fraternities. Sen. Harris is a member of Alpha Kappa Alpha Sorority.