Joe Biden for president and U.S. Sen. Kamala Harris for vice president
10/22/2020, 6 p.m.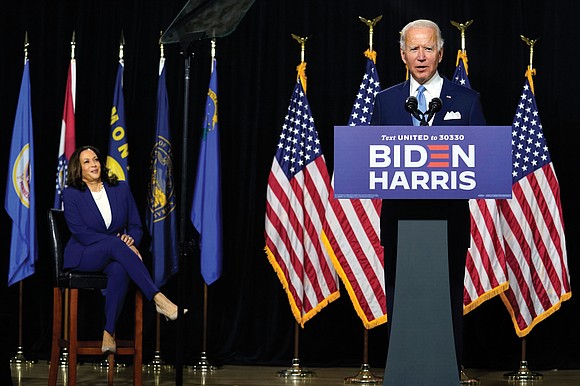 Competent.
It's not a flashy word or a flashy concept. But it best describes Democratic presidential candidate Joe Biden.
And after enduring nearly four years of Donald Trump, we believe it would be a comforting relief to have someone who is competent back in the White House.
We strongly endorse Mr. Biden for the job as the 46th president of the United States. His election, along with that of his vice presidential running mate U.S. Sen. Kamala Harris, would restore a sense of hope and direction to our nation.
We believe their strong and compassionate leadership will help to bring the COVID-19 crisis under control, returning science and not alchemy and misinformation to battle a pandemic that has stricken more than 8 million Americans and killed nearly 220,000. A disproportionate number of African-Americans, Latinos and people of color have been crushed by this pandemic, and we need to have trust that our national health institutions are being guided by the science without political interference and that any vaccines offered to the American people are safe.
We believe a Biden-Harris team at the helm will go a long way in restoring a sense of trust. This team also would soundly address the critical economic crisis people and communities are facing in the wake of the coronavirus and will work on a national policy to get schools, busi- nesses and families back to some semblance
of normalcy. The Biden-Harris team also will take seriously the issues of police and criminal justice reform and gun control to help stamp out systemic racism, police brutality and the gun violence that plague our communities.
We believe they have a solid platform to address immigration, to stop the cruel separation of families at the border, to end this border wall nonsense, to smartly address the threat of global warming and climate change and to rebuild broken relationships with our foreign allies.
Sen. Harris brings an intellectual brilliance to the ticket with her legal and political background in California and the U.S. Senate. She has shown through her questioning of judicial nominees and other interviews during her initial run for the presidency that she has a depth of understanding and stands on the right side of the array of issues critical to our community, including health care, education, justice, civil rights, gay rights and women's rights.
We believe she is someone Mr. Biden — and the American people — can rely on for her deep analytical skills and problem-solving abilities as we head into a future fraught with its own challenges as well as the hard task of cleaning up the current president's messes.
We believe Joe Biden and Kamala Harris have the courage, strength and conviction to lead this nation well, and we urge you to vote for them.