Deion Sanders now to have 2 sons at Jackson State
Fred Jeter | 12/31/2020, 6 p.m.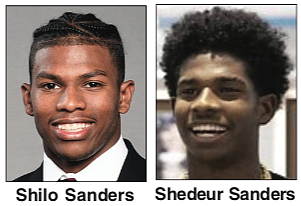 Jackson State University football Coach Deion Sanders will now have two sons playing for him next season.
The older son, Shilo Sanders, is transferring to Jackson State from the University of South Carolina. A freshman defensive back, Shilo Sanders had 32 tackles this season for the Gamecocks.
Earlier, Shedeur Sand- ers, a senior high school quarterback, announced he would be playing for his dad at Jackson State after initially commit- ting to Florida Atlantic University.
Shilo Sanders will have at least two years of eligibility at Jackson State, a SWAC affiliate in Mississippi.
Shedeur will be a freshman in 2021.
Both have played for their father, who was an assistant coach
at Trinity Christian School in Cedar Hill, Texas.
Deion Sanders, who was named Jackson State's head football coach in September, is a member of both the NFL Hall of Fame
and the College Football Hall of Fame.