Punter Pressley Harvin III named first team All-American
Fred Jeter | 12/31/2020, 6 p.m.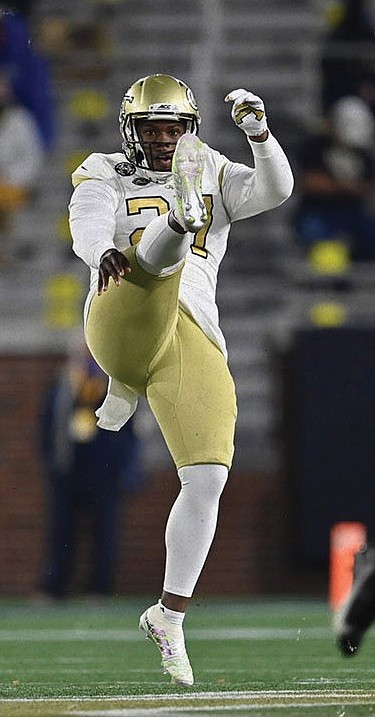 It is common nowadays to see Black athletes excel at every position on the football field—every position, that is, except kicker.
That helps explain why Georgia Tech's Pressley Harvin III stands out so much. He's a tremendous punter and he's African-American.
The powerfully built 6-foot, 255-pound native of South Carolina has been named to the first team of the Associated Press All- America team. He also has earned first team All-ACC honors in the ACC coaches/ media vote.
Pressley set the Georgia Tech and ACC record this season with a whopping 48.0 average distance.
The 22-year-old junior consistently gave the Yellow Jackets excellent field position. Of his 45 attempts, 47 percent resulted in a fair catch and 40 percent were downed inside the 20-yard line.
He became the first Black player to lead NCAA Football Bowl Subdivision, or FBS, in punting. His 48.0 norm fell short of the all-time, one-season mark of 50.3 set in 1997 by Louisiana State University's Chad Kessler.
More honors may be coming. Harvin is one of three finalists for the coveted Ray Guy Award, given to the nation's best punter. That award will be presented Jan. 7. If selected, Harvin would become the first Black to win the honor.
Harvin has announced he will forego his final year of eligibility in Atlanta to enter the NFL draft.
Black punters in the NFL are a rarity. The short list of full-time punters includes Reggie Roby who kicked from 1983 to 1998, and Greg Coleman, who was a punter from 1977 to 1998.
MorerecentlyMarquetteKingpunted for Oakland and Denver from 2012 to 2018. King last punted for the St. Louis Battlehawks of the defunct XFL and is now a free agent.
In 1974, Merritt Kersey from Matoaca High School in Chesterfield County punted for the Philadelphia Eagles.
Harvin is noticeable for more than just his booming punts. He wears a glove on just one hand, his left, prefers leaving his jersey untucked and, in warmer weather, tailors his cut-off sleeves to reveal body-builder-sized biceps.