Ruby H. Walden, a force for community betterment in Suffolk, dies at 99
12/31/2020, 6 p.m.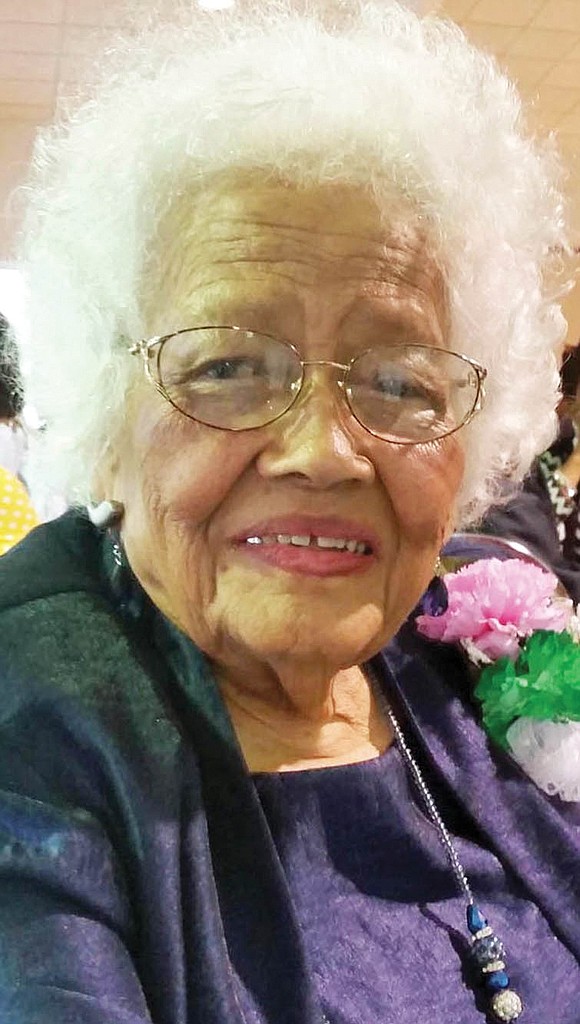 "I cannot do everything, but I can do some things. What I can do, I ought to do. What I ought to do, with the help of God, I will do."
Those are the words Ruby Holland Walden lived by until her death at age 99 in her native Suffolk on Tuesday, Dec. 22, 2020, her family said.
Though never elected to public office, Mrs. Walden became a force for community betterment in taking on multiple roles and freely "giving her time and resources to uplift others," her family said.
Along with being a wife and mother and business partner with her husband of 57 years, the late Frank L. Walden, a contractor and farmer, Mrs. Walden was a constant presence in civic affairs.
She also was the mother and mother-in-law of Pearl Walden Thomas of Richmond and her husband, former Virginia Supreme Court Justice John Charles Thomas.
A frequent writer to the Richmond Free Press Letters to the Editor, Mrs. Walden got her start in the political arena as a young mother in the 1950s when she joined activist neighbors in successfully suing Nansemond County to equalize educational offerings and resources for Black children. She was dedicated to improving the inadequate, racially segregated public education system in Nansemond County that she believed would stunt the prospects for her children and for other Black children. For 25 years, she remained a "strong, forceful and vocal advocate" for educational improvement in Suffolk, into which Nansemond was merged in 1972.
Eager to see improvement in other areas, she ultimately served on more than 30 boards, commissions, study groups and task forces along with participating in organizations seeking change, her family said.
In the mid-1960s, Mrs. Walden served on the local front lines in the "War on poverty" that President Lyndon B. Johnson launched.
She was among the organizers of the Southeastern Tidewater Opportunity Project, or STOP, the still-active regional community action program that channels federal funding into an array of beneficial educational, health, housing, employment and human service projects from Suffolk to Virginia Beach.
Mrs. Walden helped launch STOP's Head Start program for pre-schoolers in Nansemond County and served as the first teacher, her family recalled. She later served for years as STOP's community service coordinator for Suffolk and Isle of Wight and Southampton counties.
She received recognition for her community service, including the Athena Award from the Suffolk Division of the Hampton Roads Chamber of Commerce in 1992. She also received the Senior Health Hero Award for volunteer service from Bon Secours Health Services and the Senior Services of Southeastern Virginia and later was recognized for her 37 years of service to the Sickle Cell Anemia Association. Mrs. Walden also was selected to visit the White House with a group of other seniors from around the nation for a 2011 ceremony with President Obama.
Meanwhile, she also kept the books and assisted in the business ventures of her husband who operated a brick masonry company and farmed 100 acres of family-owned land. Mr. Walden died in 2003.
Mrs. Walden also was active in her church, Mt. Sinai Baptist Church in Suffolk, where through the years she participated in almost every class, program, ministry and auxiliary until her health declined. Through the decades, she held such posts as church clerk, president of the pastor's auxiliary, superintendent of the Vacation Bible School, secretary of the Sunday School and treasurer of the Senior Missionaries.
She also chaired the steering committee that produced a family life center addition to the church and organized the Guild Girls Organization for youths ages 12 to 16. She also served as secretary for the Bethany Baptist Association and represented the church at state and national Baptist gatherings and programs.
A public viewing will be held 11 a.m. to 7 p.m. Thursday, Dec. 31, at William M. Johnson & Sons Funeral Home, 224 S. Main St. in Franklin.
Her life will be celebrated in a service at 1 p.m. Friday, Jan.1, that may be viewed online at https://client.tribucast.com/ tcid/52396609.
In addition to her daughter Pearl W. Thomas, survivors include two other daughters, Janice P. Walden and Sandra W. Kiah; one son, Olin L. Walden, 11 grandchildren and 12 great-grandchildren.
In lieu of flowers, donations may be made to the National Museum of African American History and Culture in memory of Ruby H. Walden at https://nmaahc.si.edu/connect/give .