'You just don't know what's coming'
As the pandemic wears on, hundreds of families line up in a drive-thru for food from the Chesterfield Food Bank
George Copeland Jr. | 12/31/2020, 6 p.m.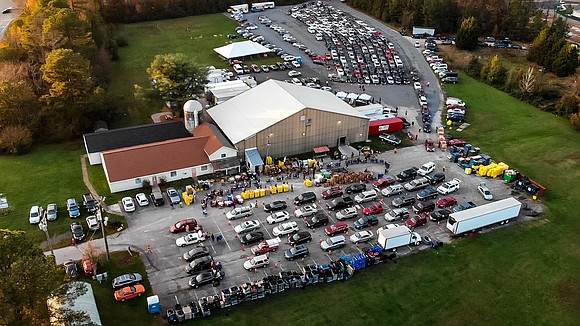 For Tatanisha Rodriguez, the experience of going to a food bank for help for the first time just a week shy of Christmas produced a multitude of emotions and reactions.
The Chesterfield County resident was laid off in May from her job of 20 years in insurance claims and risk management.
She felt a mix of anger and hurt at her situation, gratitude for the efforts of organizers and volunteers, and had a warning for others to not take their place in life for granted, especially during such unstable times brought on by the pandemic.
"I've always had the mindset that you just don't know what's coming around the pike, because I certainly didn't expect this time for me to last this long," Ms. Rodriguez said. "2020 should show us that any situation for any person can change very quickly, and you may be on the receiving end."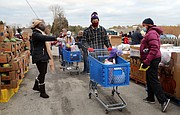 Ms. Rodriguez was one of hundreds of families served by the Chesterfield Food Bank at its drive-thru at 12211 Iron Bridge Road in Chester. Volunteers waited with grocery carts filled with fresh greens, eggs, milk, a ham, carrots, fruit and more to be placed in the cars of people who had been lined up for hours before the distribution begins about 5 p.m.
On a recent Friday, the first five cars in line had been wait- ing since noon for the 5 p.m. start. Behind them, hundreds of cars sat in row after row, with people waiting for free food for their families.
One official said at least 500 vehicles would be filled with food before the evening's end.
While the food bank is open all year, the pandemic has wreaked havoc on the lives of so many area families that the Chesterfield operation has seen the demand for food more than triple in the last few months.
Kim Hill, chief executive officer and executive director of the nonprofit food bank, said 8,000 to 12,000 people were served monthly in the past. But those numbers have steadily risen to more than 30,000 people monthly, Ms. Hill said. In November alone, more than 42,000 people received food and other critical resources.
"It has definitely been a change for us all the way around," Ms. Hill said. "But the good thing is as each month goes by, it's getting better to where we're able to serve the community at a better level, and we're excited about that."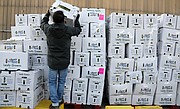 Even as the lines for food grow longer, the number of volunteers coming to help load the food into carts and then into cars also has grown.
The Chesterfield Food Bank's experience is a common one. Feed More in Richmond, which aids hunger-relief efforts throughout Central Virginia and partners with the Chesterfield Food Bank, has jumped from serving roughly 161,000 food-insecure individuals in early March to more than 241,000 in early June, according to CEO and President Doug Pick.
The pandemic "increased the number of folks that weren't sure where their next meal was coming from by about 50 percent," Mr. Pick said.
He attributed the increase largely to the number of newly unemployed because of the pandemic.
Central Virginia's growing need for food and resources is a microcosm of larger issues facing communities across the state and nation. As detailed in Census Bureau survey data collected in late October and early November, 26 million American adults are facing a winter without enough to eat.
A study co-authored by Dr. Elizabeth Adams, a postdoctoral fellow at Virginia Commonwealth University's Massey Cancer Center, found that the number of families who experienced food insecurity increased by 20 percent in the United States as a result of the pandemic.
"We all know (the pandemic) had so many profound effects across so many aspects of people's lives and has gone on for a long time," Dr. Adams said.
A national survey of households across the country across all food security levels showed that the amount of in-home food availability increased by 56 percent for food-secure families, but decreased by 53 percent for low food-secure families. Dr. Adams said she hopes the government takes notice of the data on how widespread food insecurity is across the country. She said low-income Black and Hispanic families are disproportionately affected, according to the data.
She called for government food assistance programs to "really up the benefit that they are providing at this time because we see that a lot more people likely need them."
Locally, nearly 10 percent of all Virginians — or roughly 843,000 people — are struggling with hunger, according to Feeding America, a nationwide hunger-relief organization.
An additional 447,000 Virginians will experience food insecurity because of the coronavirus pandemic, Feeding America estimates.
A recent report from the Annie E. Casey Foundation says that 25 percent of Black families in Virginia are facing occasional or frequent bouts of food scarcity. That is nearly double the state average of 13 percent.
Nationwide, food banks also have to grapple with the dilemma of increased demand while maintaining their agencies network. In 2019, Feed More distributed about 32 million pounds of food, Mr. Pick said. This year, he estimates the organization will distribute between 40 to 44 million pounds of food. The nonprofit distributes food with the help of agencies, including churches, emergency shelters, rehab centers, soup kitchens and other organizations.
"We worried about that network collapsing because most of those agencies are run by volunteers and a lot of them are seniors," Mr. Pick said.
At one point this year, Feed More lost 13 percent of its 270 agencies.
The Chesterfield Food Bank has relied on connections with churches and community partners to help distribute food to families in need, as well as for larger numbers of volunteers to help with everything from cataloging resources requested to loading food into waiting cars.
Kelly White, a North Chesterfield resident who volunteered recently with her husband and two sons, was struck by the scale of the need and the scale of the operation itself. She called it a "well-oiled machine" that was a far cry from her previous experience volunteering at a food bank.
"We were welcomed with open arms from the time we got there until the time we left. We're definitely going to come back and continue to help with them," Ms. White said.
"And if anyone else has any time, then I would definitely recommend that they volunteer, if not at the Chesterfield Food Bank, at least somewhere else near them that can definitely use the help."
"The food banks have always been here for emergency purposes when people get into a tight bind," Mr. Pick said. But as the pandemic wears on, Mr. Pick warned that long-term government policies will be needed to address food insecurity beyond food banks' ability and control.
Ms. Hill said the Chesterfield Food Bank expects — and is preparing — for the current level of need to continue for a long time.
"It's going to take time to get the economy back to where (it needs) to be and people back to working and being able to pay their bills and feed their families," she said. "So we're making plans and working with the community and working with our county government, our partnerships, to prepare for 2021."
David Tran of Virginia Commonwealth University's Capital News Service contributed to this article.