Memories of Kobe Bryant flood All-Star Game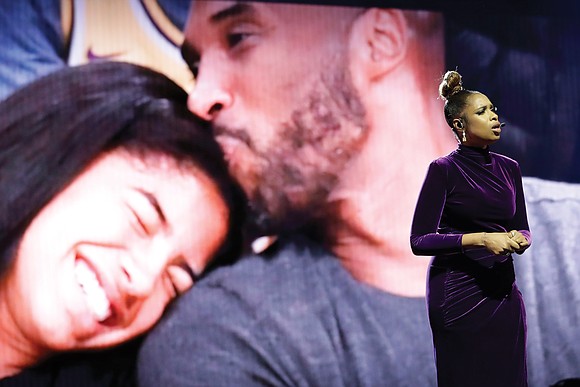 Team LeBron won the game.
Anthony Davis scored the game-clinching point.
Kawhi Leonard was MVP.
But memories of Kobe Bryant garnered people's attention and thoughts the most at last Sunday's 69th NBA All-Star Game in Chicago.
The contest was played in honor of Bryant and his daughter, Gianna, who died along with seven other people in a helicopter crash Jan. 26 in Southern California.
"You could definitely feel his presence," said LeBron James, whose team representing the West won 157-155 over Team Giannis (Antetokounmpo), representing the East. "So he was definitely here."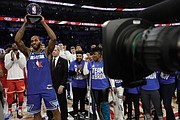 Leonard on Team LeBron was the game's MVP on the strength of 30 points — 8-for-14 beyond the arc — seven rebounds and four assists.
Thus, Leonard became the first recipient of the Kobe Bryant MVP Award, which will forever be named in honor of the former Los Angeles Lakers star. Bryant was an 18-time All- Star and four-time MVP.
"I came in and I made my first two shots," Leonard said. "That's when I told myself, 'I'm going to try and get MVP.' It's very special. I had a relation- ship with (Bryant). Words can't describe how happy I am for this. He's a big inspiration in my life."
The game ended on a free throw from Davis after receiving a pass — and being fouled — under the basket from James. Davis finished with 20 points and nine rebounds.
The intense fourth quarter was played with a "target score" of 157, meaning the first team to make it to 157 won. Both teams competed like the final outcome really meant something.
Another MVP candidate was Team LeBron's Chris Paul, who nailed seven 3-pointers en route to 23 points.
"For a lot of us, it's still unreal," Paul said of Bryant's death. "I think the best way to honor Kobe, Gigi (Bryant's daughter) and everyone involved was to play like we did."
The tribute to Kobe and his 13-year-old daughter started early.
During the pregame activities, recording star Jennifer Hudson offered a passionate rendition of "For All We Know" as images of Kobe and Gianna were shown on the United Center's Jumbotron.
The 2021 NBA All-Star Game will be held at Bankers Life Fieldhouse in Indianapolis, Ind.