Kobe Bryant's legacy felt in Richmond, around the world
Purple and gold-themed tributes of praise have sprung up as Richmond and communities in Virginia and around the world recognize the life and accomplishments of the late basketball star Kobe Bryant, an 18-time All-Star who won five NBA championships during his 20-year career with the Los Angeles Lakers.
In Richmond, United Communities Against Crime, in cooperation with the Black Top Kings & Queens and Balloons & Things, will hold a citywide memorial service 7 p.m. Friday, Jan. 31, in memory of Mr. Bryant, 41, and his daughter, Gianna, 13, who perished Sunday with seven others in a helicopter crash in Southern California.
The memorial service will be held at the Black Top Kings & Queens Sports Academy, 318 W. 19th St. in South Side.
People are asked to wear their Kobe Bryant jerseys and other Lakers paraphernalia.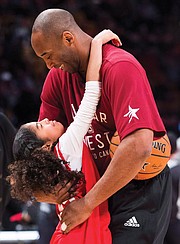 City officials and local clergy are expected to speak and share their thoughts about Mr. Bryant and his legacy, according to Charles D. Willis, executive director of United Communi- ties Against Crime.
"We look for folks to come out, to have an opportunity to grieve, to mourn, to come together as a city collectively," Mr. Willis said via phone on Wednesday. "It's about bringing the community together as one in solidarity to support one another here at home.
"A lot of young folks, as well as old folks, didn't realize that Kobe was more than just a sports entertainment star," Mr. Willis said. "Kobe spoke four different languages. Kobe was the youngest to be drafted into the NBA, as well as being a husband, family man and a dad."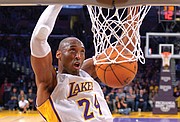 Mr. Bryant leaves behind his wife, Vanessa, and three daughters, Natalia, 17, Bianka, 3, and Capri, who was born in June.
His daughter, Gianna, who was called "Gigi," had a promising youth basketball career and a competitive spirit that reminded people of her dad. Mr. Bryant told late-night television host Jimmy Kimmell in 2018 that Gianna wanted to play in the WNBA.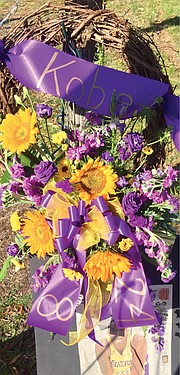 During Tuesday's Capital City Classic basketball game between Virginia Commonwealth University and the University of Richmond, a large section of the Siegel Center was filled with a poster of Mr. Bryant and signs with his Lakers jersey number, 24.
Floral memorials have been left everywhere from rural Martinsville in Southside Virginia, to an area near the Staples Center in Los Angeles, where Mr. Bryant played.
Buildings from downtown Los Angeles to its busy Los Angeles International Airport were illuminated with the Lakers' colors, purple and gold.
Hundreds of fans — many in Lakers gear and jerseys — spontaneously gathered at Staples Center and in the surrounding LA Live entertainment complex on Sunday, weeping and staring at video boards with Bryant's image before the Grammy Awards ceremony.
"I thought he was going to live forever," Lakers great Magic Johnson told a Los Angeles TV station. "I thought he was invincible. There was nobody who took more pride in putting on that Lakers uniform than Kobe. Nobody."
The fatal crash occurred during in the foggy hills above Calabasas, Calif., as Mr. Bryant and his daughter were on their way to a youth basketball tournament she was playing in at the Mamba Sport Academy, Mr. Bryant's training complex in Newbury Park, Calif.
Mr. Bryant lived south of Los Angeles in coastal Orange County, and often used helicopters to save time and avoid Southern California's notorious traffic. He also traveled to practices and games by helicopter before retiring from basketball in 2016 as the third leading scorer in NBA history with 33,643 points — all with the Lakers.
Also killed in the crash were Sarah Chester and her 13-year-old daughter, Payton, who played on the team with Gianna; John Altobelli, a baseball coach at Orange Coast College, and his wife, Keri, and their daughter, Alyssa; Christina Mauser, a girls' basketball coach at a Southern California elementary school; and the pilot of the chartered Sikorsky S-76B helicopter, Ara Zobayan.
National Transportation Safety Board investigators hurried to the crash scene, noting on Tuesday that the helicopter didn't have a recommended warning system to alert the pilot he was too close to terrain. But they also said it wasn't clear if such a warning system would have prevented the crash because the pilot might have lost control as the aircraft plunged into the fog-shrouded mountain.
The impact of the crash spread debris over more than 500 feet, authorities said. Determining the cause of the crash will take months, according to authorities.
Mr. Bryant entered the NBA draft straight out of suburban Philadelphia's Lower Merion High School in 1996 after a childhood spent partly in Italy, where his father, former NBA player Joe "Jellybean" Bryant, played professionally.
The Lakers acquired the 17-year-old Mr. Bryant in a trade shortly after Charlotte drafted him. He teamed with Shaquille O'Neal for a partnership that led the Lakers to NBA titles in 2000, 2001 and 2002. He later teamed with Pau Gasol to win two more titles in 2009 and 2010 and three straight NBA Finals.
Taking cues from Michael Jordan, one of his idols, Mr. Bryant played with a swagger that compelled him to talk trash, to guard the toughest opponents, to play through pain and to demand the ball at the biggest moments of games.
Mr. Bryant retired as the Lakers' franchise leader not only in points, but also in games played, 3-pointers and steals. He holds a record four NBA All-Star Game MVP awards, alongside the title of overall league MVP for 2008. He also was a two-time Olympic gold medalist.
Following his retirement, Mr. Bryant opened a production company and won an Academy Award in 2018 for "Dear Basketball," an animated short about his relationship to the game. He also produced content for ESPN.
Mr. Bryant had been a vocal booster of women's sports since his retirement, coaching and mentoring basketball players around the world while also backing women's soccer and other endeavors.
Mr. Bryant's life had not been without conflict and controversy. He spent his life occasionally estranged from his now-65-year-old father, though the two eventually reconciled. In 2003, Mr. Bryant was charged with sexually assaulting a 19-year-old employee at a Colorado resort. He said at the time that the two had consensual sex. The charges were dropped when the woman declined to testify in a trial. She later filed a civil suit that eventually was settled out of court.
Mr. Bryant held the No. 3 spot in the NBA's scoring ranks until the day before his death, when Lebron James passed him during the Lakers' game in Philadelphia.
Mr. James said he was "happy just to be in any conversation with Kobe Bean Bryant, one of the all-time greatest basketball players to ever play. One of the all-time greatest Lakers."